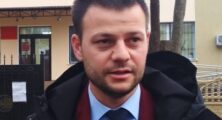 On December 25, the Kirovsky District Court held a regular hearing on the criminal case against Mr.Medzhyt Abliamitov, accused of being a member of the Noman Chelebidzhikhan Volunteer Battalion. The hearing was held in camera. As the lawyer Ayder Azamatov said after the court session, a secret witness under the pseudonym "Umerov" was questioned.
Answering the essential questions from the defense, the witness said that he did not remember, since a long time had passed. Among the major moments, the lawyer emphasized the secret witness' confession that he had dealt with administrative and household needs in the battalion and Ablyamitov had done the same. The secret witness did not see Ablyamitov with a gun or in combat training classes.
We would remind that on August 19, 2020, the FSB press office informed about detaining a Kirosvky district resident suspected of being in the 'Ukrainian nationalist battalion', in Crimea. Later the relatives informed that this was Medzhyt Abliamitov, aged 26. On August 20 'Kievsky District Court' of Simferopol imposed a pre-trial restraint on Mr.Abliamitov.
The reason for the persecution of Crimeans for their being in the Crimean Tatar Volunteer Battalion named after Noman Chelebidzhikhan, according to the occupation authorities of Crimea, is membership in an organization that aims to de-occupy the peninsula. At the same time, this organization does not take part in an armed conflict or other hostilities, therefore, according to the CHRG experts, the persecution for being in the Noman Chelebidzhikhan battalion can be considered as politically motivated.