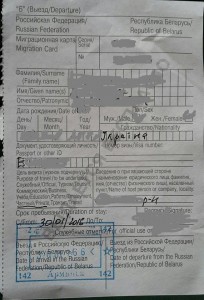 According to the Russian border guards on January,  30  on the Crimean border, a "new rule" acts: at the entrance from  the continental part of  Ukraine to Crimea with Ukrainian passport, Russian border guards require the Crimeans fill in a migration card even if there is registration .
A few Crimeans  reported about this to  the Crimean human rights group  who were returning home to Crimea from other regions of Ukraine on January 30 and 31.
"Plus, one more border guard on the radio set is caused, and he takes away a man with such a passport aside and asks in detail: where he was been and what has he done in Ukraine", – said  the Crimean.
The other Crimeans wrote to the human rights defenders that they were warned on  the Russian border, that if they entried to the Crimea on the Ukrainian passports, they would have to fill in migration cards.
The border guards explained to the  Crimeans that "they recieved the order to pass all strictly in accordance with the law." Referred to the Federal Law 114-FL "On the Procedure for Exit and Entering the Russian Federation ."
Earlier, the Russian border guards were allowed the Crimeans to enter on the Ukrainian passports without migration card, if they have the Crimean residence.
The experts of CHRG regard such actions of the Russian authorities as a way of pressing into citizenship.  In such conditions the Crimeans  are  forced to recieve  Russian passports for unhampered stay at home in the Crimea,  otherwise the authorities will limit their term of stay on the peninsula up to 90 days.
Recall that  the permitted term of visiting Russia for foreigners of entering  in visa-free oder, including for citizens of Ukraine – up to 90 days within 180 days has already installed  from January 1, 2014. The steps will be taken administratively, including prohibition to entry into Russia to the citizens of Ukraine who have violated or violate in the future after entering authorized period of stay in the territory of the Russian Federation (90 days within 180 days), and failed to permitted documents, from December, 1 2015.