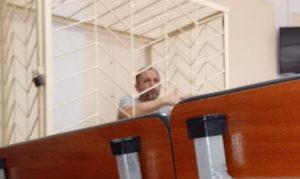 On 31 July, 2017, a regular meeting was held in the Razdolnensky District Court regarding the Ukrainian activist Vladimir Balukh.
Balukh told the "court" that his house had been kept under surveillance for a long time, and during the search the police forbade him to move around the house. Baluch was not in the attic where ammunition was found since 1997. After questioning the defendant, the court refused to re-interrogate witnesses whose information contradicted Balukh's testimony.
As it turned out at the hearing, the expert assessments appointed at the request of the defence were not fully carried out. However, the defence's petition for the need to conduct repeated investigations was rejected as unfounded after the long absence of "judge" Maria Bedritska in the advisory room.
Also, the "court" refused to review the schedule of the next meetings due to the absence of lawyer Dmitry Dinze, who is currently studying. Bedritskaya did not find a violation of the rights of the defendant in this and refused to satisfy the petition. At the same time, she did not accept her challenge of a judge from Vladimir Balukh, believing that his allegations about the court's bias were unreasonable.
The "court" ordered the witnesses, who were FSS officers, to appear for testimony at the next court session.
Earlier, the Crimean human rights group reported that Vladimir Balukh had been taken to the Razdolnensky District Court from the Simferopol detention centre with a delay of more than two hours.
During one of the last session of the court, on 27 July, Balukh was under pressure, and he was called "First Aid." The defence of the Ukrainian stated then that all documents submitted by the prosecution were drawn up with procedural violations. In addition, the documents of the investigation have different data on the number of cartridges and the weight of TNT, which were allegedly found in the attic of Balukh's house.
Recall that a Ukrainian activist Vladimir Balukh is under the trial in Crimea on a fabricated criminal case. The FSS detained the Crimean citizen on the morning of 8 December last year. Employees of the FSS said that 90 cartridges and several TNT grenades were found in the attic of the house where the activist lives. A criminal case was opened under Article 222 part 1; (Illegal acquisition, transfer, sale, storage, transportation or carrying of weapons, its main parts, ammunition), Article 222.1 part 1 of the Criminal Code (Illegal acquisition, transfer, sale, storage, transportation or carrying explosives or explosive devices) with respect to the activist.
The gross violations of fundamental human rights and the procedural norms by the de facto Russian legislation in Crimea, as well as unreasonable decisions to extend the term of detention, speak of fabricating a criminal case against Ukrainian activist Vladimir Balukh for political reasons.