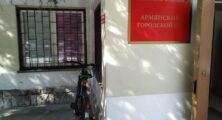 On September 17, 2020, a schedules court session in the criminal case against Mustafa Dzhemilev was held at the "Armiansk Town Court". One prosecution witness, Yakub Suleymanov, was questioned at the session. He said that he worked as a taxi driver, and that day he had brought passengers to Armiansk. The witness saw that the people assembled there were blocked by people in military uniform and the road was blocked by military equipment. He was waiting in a car away from the military. The witness did not see the military put forward any demands, check someone's documents or inspect stuff. A few hours later, the road was cleared, the people were able to walk towards Armiansk, and the witness, together with the passengers, drove back to Feodosiya. On the way back he saw people in black masks standing along the roadside and holding some subjects in their hands.
The witness testified that he had not seen road signs indicating the presence of the state border of Russia. He also did not see any signs of the state border.
The witness also noted that he had not seen Mustafa Dzhemilev, although he stated the opposite when interrogated during the investigation. In addition, he did not confirm that he had said the investigator such definitions as the Turetsky Val traffic police post and the Armiansk checkpoint.
Apart from this, when his testimony had been read out, the witness "recalled" that he had heard submachine gun rounds.
The next meeting is scheduled for September 18th.
We would remind that the case is being considered by "judge" Venera Isroilova. Mr. Mustafa Dzhemilev in the occupied Crimea was charged with "crossing the Russian state border by a foreign citizen who is not allowed to enter Russia, committed by a group of persons by prior conspiracy (the RF CC Article 322-3); negligent storage of firearms, that created conditions for its use by another person, if this entailed grave consequences (the RF CC Article 224); illegal acquisition and storage of ammunition (the RF CC Article 222-1)." The Crimean Human Rights Group considers the case against the leader of the Crimean Tatar people Mustafa Dzhimilev politically motivated.