Volodymyr Balukh, a political prisoner, has been already in custody for 1 year and 7 months in Crimea. Protesting, he has been on hunger strike for 108 days. During the Maidan protest in Kyiv he placed a flag of Ukraine at his house in the Crimean village. After occupation of the peninsula he did not remove the flag, for it the Russian authorities began to persecute him. Since April 2015, illegal searches began in his house, during that flags of Ukraine were removed from the roof and seized. Volodymyr was prosecuted as part of fabricated administrative and criminal cases.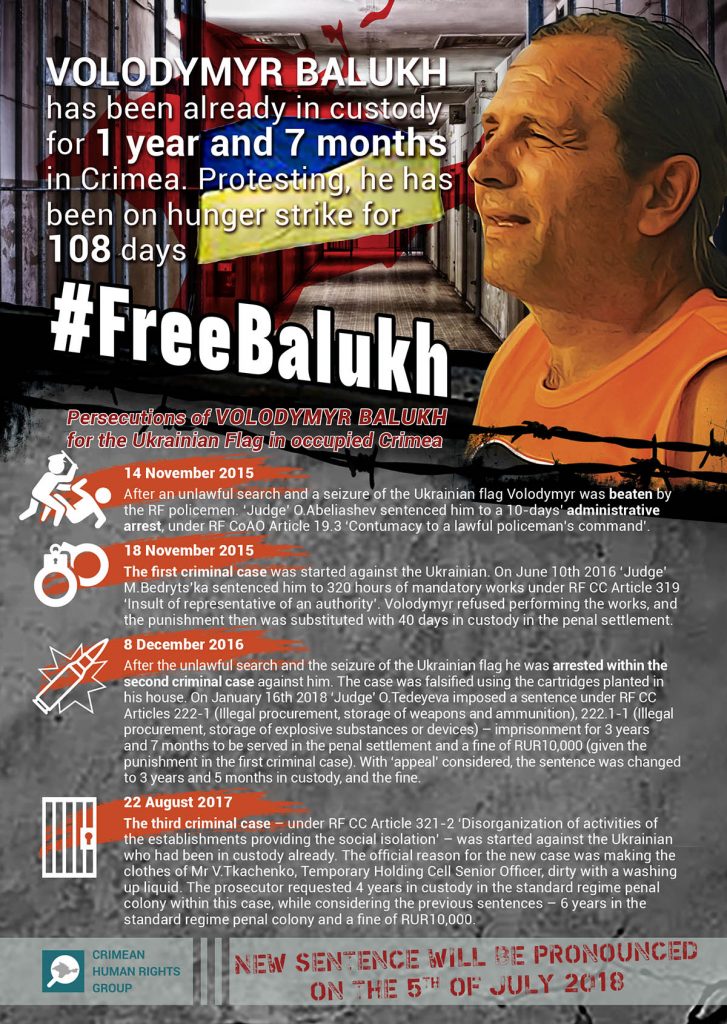 14 November 2015
After an unlawful search and a seizure of the Ukrainian flag Volodymyr was beaten by the RF policemen. 'Judge' O.Abeliashev sentenced him to a 10-days' administrative arrest, under RF CoAO Article 19.3 'Contumacy to a lawful policeman's command'.
18 November 2015
The first criminal case was started against the Ukrainian. On June 10th 2016 'Judge' M.Bedryts'ka sentenced him to 320 hours of mandatory works under RF CC Article 319 'Insult of representative of an authority'. Volodymyr refused performing the works, and the punishment then was substituted with 40 days in custody in the penal settlement.
8 December 2016
After the unlawful search and the seizure of the Ukrainian flag he was arrested within the second criminal case against him. The case was falsified using the cartridges planted in his house. On January 16th 2018 'Judge' O.Tedeyeva imposed a sentence under RF CC Articles 222-1 (Illegal procurement, storage of weapons and ammunition), 222.1-1 (Illegal procurement, storage of explosive substances or devices) – imprisonment for 3 years and 7 months to be served in the penal settlement and a fine of RUR10,000 (given the punishment in the first criminal case). With 'appeal' considered, the sentence was changed to 3 years and 5 months in custody, and the fine.
22 August 2017
The third criminal case – under RF CC Article 321-2 'Disorganization of activities of the establishments providing the social isolation' – was started against the Ukrainian who had been in custody already. The official reason for the new case was making the clothes of Mr V.Tkachenko, Temporary Holding Cell Senior Officer, dirty with a washing up liquid. The prosecutor requested 4 years in custody in the standard regime penal colony within this case, while considering the previous sentences – 6 years in the standard regime penal colony and a fine of RUR10,000.
New sentence will be pronounced on the 5th of July 2018.