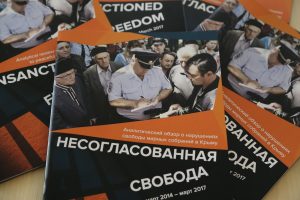 Five Crimeans were summoned to the police department of Dzhankoy to give explanations of the events on 18 May, 2017. One of the activists told the Crimean human rights group the details of communication with the police.
A resident of Dzhankoy, Ruslan Kurtseitov, told the CHRG that he had already visited the police station on 20 June on this occasion.
The activist said that in the police department he gave explanations about laying flowers at the monument to the victims of deportation, which the police call an unauthorized rally. The laying of flowers was held on 18 May, and activists were summoned to the police just now.
"The thing is that on 18 May near the memorial sign to the victims of the deportation at the bus station in Dzhankoy a certain number of people gathered. Then the same people gathered and went to the railway station to lay flowers to the plaque. Now they accuse us of holding an unauthorized rally. They took all this on the video, recorded everything. They asked me to explain how we got there. In my explanation, I said that the event was not a rally. They did not present any documents to us, they said that the case would then be submitted to the court," – Ruslan Kurtseitov said.
The Crimean citizen said that he was summoned to the police department via a written invitation.
"They explained to me that they could call me to the police during the year. They gave an invitation to visit the police department. The invitation indicated the time and date when I need to appear. Yesterday I was there, today there were two more friends, tomorrow there will be one more, the day after tomorrow is the last one "- explained the Crimean citizen.
Earlier, the Crimean Tatar activist Nariman Dzhelal reported on his social network page about a call to the police department of five activists of the national movement.
"According to available information, the police will refer cases to the court, which is likely to give fines to these five activists for an unauthorized event," – he wrote.
Recall, that in June 2017, the Crimean Human Rights Group released an analytical review of the situation with freedom of peaceful assembly on the peninsula. The report reports on the systemic and planned pressure of the occupation authorities on freedom of assembly in Crimea, including unjustified bans and fines for any manifestation of the Crimean Tatar and Ukrainian identity.