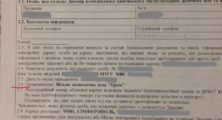 A document with such an entry was provided to the Crimean Human Rights Group by a Ukrainian national, a former resident of Crimea, who now lives in Kyiv. In March 2020, he applied to the bank for a bank card, having an IDP certificate (internally displaced person).
"When a bank employee let me sign this document, I didn't even know what to say. The bank clerk may have no idea that such a country as the "economic zone of Crimea" does not exist. But bank documents and forms should be checked by the legal department when worked out. Could lawyers in Oschadbank (Savings Bank of Ukraine) really not understand that such a citizenship just cannot exist! We, Crimeans, are again discriminated and diminished. When would this finally come to end?', the Crimean resent.
The man issued the card at the bank, because, in accordance with applicable law, banks shall not refuse to provide their services to the Crimeans who have the status of an internally displaced person,
We would remind that the adoption of the law "On establishing the 'CRIMEA' free economic zone and on the specific features of doing business on the temporarily occupied territory of Ukraine" in 2014 led to a significant and unreasonable restriction of the constitutional rights and freedoms of Crimeans.
Ms. Olka Shrypnyk, the CHRG Head, notes that this law introduced a model according to which Ukrainian nationals registered in Crimea were declared "non-residents", with their capacity to use bank services limited significantly. In addition, this status of "non-residents" restricts such citizens in receiving pensions and social benefits, notarial services.
The Crimean Human Rights Group and other human rights organizations have been calling for the repeal of this law for several years now.
On March 17, the National Bank of Ukraine amended its Resolution no 699 of 3 November 2014 and simplified partially the access of Crimeans (Ukrainian nationals with residence registration in Crimea) to financial services by cancelling special rules on applying the currency legislation to them.