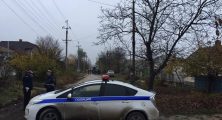 Today, on November 8, 2017, illegal searches took place in the houses of Crimean Tatar activists and members of the public movement "Crimean Solidarity", namely Sieitumier Sietumierov, Eldar Kantiemyrov, Head of the regional Majlis, Ekriem Abdulvatov, Alimdar (Ruslan) Bielialov, Khalid Bielialov in the various regions of Crimea (Bakhchysarai, Staryi Krym, Simferopol District). In addition, five more Crimean Tatars, who were employed by one of the detained activists, namely Asan Ziekieriaiev, Alim Ziekieriaiev, Riesul Abduramanov, Mustafa Isaiev, Amiet Umierov, were taken to the occupation police departments. De facto, the court found Sieitumier Sietumierov guilty of part 1 of Art. 20.3 of the Administrative Code of the Russian Federation (Propaganda or public demonstration of prohibited symbols) and imposed a penalty in the form of an administrative fine of 2,000 rubles. This morning, after a search in the house of Abdurakhman Medzytov, he was taken to an occupation court, where Mr. Medzytov was brought to administrative punishment in the form of a 15-day arrest for a one-man protest on October 11, 2017.
Illegal searches and detentions, selective application of norms of "extremist and antiterrorist" legislation by the Russian occupation authorities in Crimea became an instrument for the systematic persecution of activists and the complete suppression of civil society on the peninsula.
The recent massive unreasonable searches in the homes of Crimean Tatar activists, in particular members of the "Crimean Solidarity" movement, indicate intentional pressure on activists to stop their activities concerning the coverage of the situation and protection against human rights violations in Crimea.
Given the mentioned above, we call on
The Governments of the EU member-states, Switzerland, USA, Canada:
– to demand from the Russian Federation to stop prosecution of representatives of the Crimean Tatar and Ukrainian communities, public journalists and civil society in Crimea;
– To strengthen sanctions against officials of the occupation authorities of Crimea and the Russian Federation, who are involved in politically motivated persecutions, gross violations of freedom of peaceful gatherings, freedom of speech and freedom of assembly and association.
International organizations:
– To facilitate the work of independent monitoring human rights missions in the occupied Crimean Peninsula;
– To strengthen the international influence on the Russian Federation in order to bring to justice and to stop illegal actions of representatives of the Russian Federation concerning gross violations of human rights in occupied Crimea.
The authorities of Ukraine:
– To open criminal proceedings and investigate the facts of illegal arrests and searches of activists; to conduct an effective investigation into these crimes with subsequent prosecution of those guilty of violations of human rights and international humanitarian law in Crimea;
– To develop and adopt appropriate amendments to the legislation of Ukraine in order to establish a coordinating body, providing protection and support to persons, who suffered as a result of unlawful politically motivated persecution by occupation authorities of Crimea and the Russian Federation.
Crimean Human Rights Protection Group
Ukrainian Helsinki Human Rights Union
Human Rights Information Center
NGO "Crimea SOS"
NGO "Human Rights Movement of Crimea"
Public movement "Crimean Solidarity