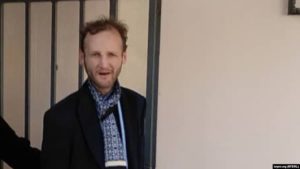 A court session that would have considered the appeal in the case of an administrative offense against Yalta blogger Yevgeniy Gayvoronsky, was not held in the "Supreme Court" of Crimea on January 22, 2020.
The session was not held due to the absence of the blogger that earlier had been unlawfully deported by the occupying authorities of the Crimea from the peninsula to mainland Ukraine, as well as his lawyer Aleksey Ladin. The "court" did not indicate when the next session would be held.
However, the same day, the official website of the "Supreme Court" of Crimea informed, in the schedule of court hearings, at the name of Gayvoronsky, that upon the appeal consideration outcomes, the verdict was left unchanged. The decision was passed by "judge" Liubov Diachenko.
We would remind that on November 25, 2019 the "Yalta Town Court" imposed a fine of RUR30,000 on Mr.Gayvoronsky for a post on Facebook, in which, according to police officers, he had called Russian President Vladimir Putin with a flying word. Actions of Mr.Gayvoronsky were qualified as petty hooliganism – part 3 of article 20.1 of the Code of Administrative Offenses of the Russian Federation.
On December 20 the "Yalta Town Court" passed a verdict on a forced deportation of blogger Yevgeniy Gayvoronsky from Crimea to the mainland Ukraine that constitutes a violation of several human rights international standards.