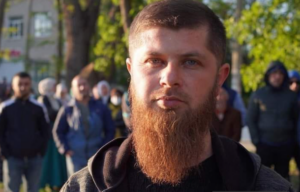 Mustafa Seydaliyev, the coordinator of the Crimean Solidarity, was sentenced by the "Kirovsky District Court" to 10 days of administrative arrest under articles just charged: "dissemination of extremist materials" and "demonstration of symbols of extremist organizations".
This was reported by lawyer Emil Kurbedinov.
As reported by the CHRG, Mustafa Seydaliyev was detained on December 7 once he had left the temporary detention center in Yevpatoria, where he had been kept for 14 days after meeting the lawyer Edem Semedliayev.
In the "police station", the head of the TsPE (Center for Counteracting Extremism) Ruslan Shambazov, did not allow a lawyer to meet Mr Seydaliyev, and made administrative reports against him under Article 20.3 ("Propaganda or public display of symbols of extremist organizations") and Article 20.29 ("Production and distribution of extremist materials ") of the Code of Administrative Offences of the Russian Federation.
As Emil Kurbedinov said, both reports were drawn up because Mr.Seydaliyev was said to have been mounted and published a video showing "a prohibited symbol – the all-Islamic flag of Muslims" on the VKontakte page on December 1, 2021.
According to the prosecution, the video is on the "federal list of extremist materials'.
Mr.Seydaliyev told the "court" that he did not consider himself guilty, since he had not used a page on this social network for a long time, and if he re-posted a video, this was before 2014 (before the occupation and persecution of the followers of Hizb-ut-Tahrir).
According to Emil Kurbedinov, the publication was posted back in 2012, under the Ukrainian jurisdiction, when it was not prohibited.
As a result, Mr.Seydaliyev was sentenced to 10 days of administrative arrest to serve in the temporary detention facility in Simferopol.