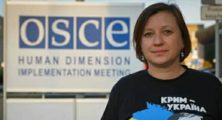 Ms Irina Siedova, a Crimean Human Rights Group expert, reported the situation with the independent Ukrainian mass media in Crimea at the OSCE online session in Vienna on 23 June 2020.
'Consistent sessions of monitoring the access to the Ukrainian mass media in Crimea show that as of June 2020, the Russian Federation not only keeps on but even intensifies a consistent blocking of the independent Ukrainian mass media broadcasting in Crimea',  Ms. Irina Siedova said.
As stated by the human rights expert, these actions are limiting substantially an access to the information of independent Ukrainian online media and FM radio stations for the residents of Crimea. Given the pandemic conditions, such Russia policy in Crimea is just aggravating the situation, depriving the people, in fact, of access to the independent information on the situation with the pandemic in Ukraine, that the life and health of these people may directly depend on.
Ms. Siedova specified that in the northern Crimea the Ukrainian FM broadcasting is purposefully blocked with  Russian radio stations broadcasting at Ukrainian frequencies.
'Of 19 settlements in the north of Crimea Ukrainian stations may be listened to only in five. And the broadcasting coverage is constantly reducing. In other cities of the peninsula the Ukrainian radio stations have been blocked by Russia once the occupation started. In addition, 10 providers in at least 9 major settlements in Crimea are blocking 20 Ukrainian information websites and 2 social networks', the human rights expert said.
Therefore, the Crimean Human Rights Group is addressing the OSCE member states representatives with a request to intensify a pressure on the Russian Federation to make it stop blocking the media as well as other unlawful free speech restrictions in Crimea. The Russian Federation should also stop violating a number of commitments to the other OSCE member states, namely:
commitment to contribute to improving the dissemination of radio and television information undertaken in the framework of the Conference on Cooperation in the humanitarian and other fields in Helsinki in 1975;
commitment to ensure a direct and normal reception of broadcasts of radio services operating in accordance with the broadcasting rules of the International Telecommunication Union, adopted by the participating states in Vienna in 1989;
commitment adopted by participating states in Moscow in 1991 that the public would be free in receiving and transferring the information and concepts without interference of the governmental authorities, irrespective of the borders, including the foreign publications and TV and radio broadcasting programs;
commitment to take all necessary actions to establish a necessary base for operations of free and independent mass media to ensure uninterrupted cross-border and in-state information flows adopted in Istanbul in 1999 as a part of the European Security Charter.