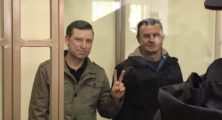 'Sevastopol City Court' sentenced Mr. Vladimir Dudka and Mr. Aleksey Bessarabov, accused under the fake 'Ukrainian Commandos' case, to 14 years' imprisonment each, with serving in the high security penal colony, as Mr Ilya Kavernikov, Mr Dudka's son, informed the Crimean Human Rights Group.
Both Sevastopol residents were also imposed a penalty by the court: RUR350,000 for Mr Dudka, and RUR300,000 for Mr Bessarabov.
This sentenced was passed by 'judge' Denil Zemliukov, a RF national, and a former judge of Altay Area Court (Altay Area).
According to Kavernikov's information, the defence of Ukrainians will appeal against the sentences.
Mr Vladimir Dudka, Mr Aleksey Bessarabov, and Mr Dmitriy Shtyblikov were detained in Sevastopol on November 9th 2016 and accused of preparing sabotage acts by an organized group and possessing the weapons (RF CC Articles 222-3, 222.1-3, 30-1, 281-2(a)).
On November 16th 2017 the 'Sevastopol City Court' sentenced Mr Dmitriy Shtyblikov to 5 years in the high security colony after he had made a plea agreement with the investigation, i.e. he pled guilty. None of independent lawyers was allowed to see him, that may confirm a pressure he had been subjected to by the investigators.
Mr Dudka and Mr Bessarabov deny guilty completely.
The CHRG has declared many times that so called 'Ukrainian commandos' case is a politically reasoned criminal prosecution. Inadmissible evidence was used in this case, and Ukrainians detained in Crimea under the 'Ukrainian Commandos' case were deprived from freedom due to political reasons with violations of fundamental rights and freedoms and are political prisoners.