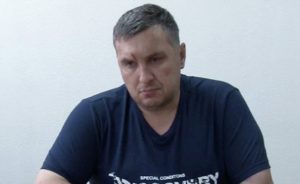 Today, 10 February 2017, Mrs Vera Kotelianets (Panov's mother) received a next negative response from the FSB of Russia on her request to communicate with the son. This information was published by his brother Ihor Kotelianets on his Facebook page.
According to Ihor Kotelianets, this refusal is just one of many. For the whole period of Mr Panov's detention in Lefortovo Detention Center, the relatives of Ukrainian had no opportunity to see him.
Though Russian Federal Law no 103-FZ of 15 July 1995 'On detaining in custody the suspected and the accused in criminal acts' stipulates two visits of relatives per month for the suspected, Mr K.V.Selivanov, Senior UFSB Investigator for Crimea and Sevastopol, refused, explaining that at the moment he had no grounds to allow Mr Panov to be visited by his relatives.
'This is the answer of FSB to our million's request. Grounds. For the visit. Could you understand? They must be issued in this state by some dedicated Service for Issuing Grounds for Visits…," was written by Mr Kotelianets, indignant at a new refusal.
Additionally he informed the Crimean Human Rights Group that Panov's relatives, apart from the visit refusal, had not been allowed even to speak with Mr Panov on phone. And not all letters sent to the Ukrainian to the Detention Center reach him. It looks that Yevgeniy receives every third letter from the mother, but he has been given only three wife's letters, while his own (brother's) letters are not handed to Panov at all.
There is also a problem of delivering the parcels to the Detention Center. The latest ones, namely footwear and 20kg of foodstuffs sent by the relatives, have never reached Mr Panov.
Yevgeniy's chronic diseases have exacerbated in the Detention Center, he feels strong pains in knees, and he needs medicines.
Last October the Crimean Human Rights Group reported that Mr Yevgeniy Panov had not received most of parcels and letters from the relatives in the Lefortovo Detention Center.
To remind, Mr Yebgeniy Panov is currently in the Lefortovo Detention Center where he was transferred from Simferopol in early October. In Moscow the Ukrainian is defended by Mr Dmitriy Dinze, the Russian defence lawyer who defended previously Mr Oleg Sentzov.
A group of 'Ukrainian commandos', as the FSB states, that would supposedly prepare acts of terror in Crimea, including Yevgeniy Panov, resident of Energodar City, was detained in the early hours of August 7. The CHRG experts assessed the facts available and concluded that the case was a politically motivated criminal prosecution.