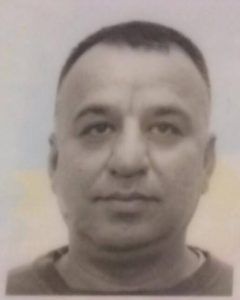 A citizen of Ukraine of Afghanistan origin, Kabir Mohammad suffers from serious health problems after being in the pre-trial establishment of Simferopol. Complications started after a second stroke in prison, as a result of systematic failure to provide medical care A year later, he was released from prison under a signed undertaking not to leave place of residence. According to the doctors, Kabir can not be in prison with such diagnosis
Now he needs an urgent surgery, which is impossible to conduct in Crimea. If the surgery isn't performed in the near future, Kabir Mohammad may die. He can not go outside the peninsula, because he is under a written undertaking not to leave the place of residence.
Kabir Mohammad is not a citizen of Russia, therefore, he is not given free medical care in state hospitals of Crimea. He is not allowed to go to continental Ukraine as well because the criminal case against him is not closed. At the moment, the only way to save Kabir's life is to get him transferred to Moscow for treatment. According to the laws of the Russian Federation, in such situations it is possible to take a person to a surgery, despite a written undertaking not to leave the city, if the prosecutor's office gives permission for this. To begin such a procedure, it is necessary to get a written call for treatment from the medical center where the operation is to be performed
Kabir's relatives have already received this written call from a private Moscow hospital, but the Crimean "prosecutor's office" haven't given permission for Mohammad to be transferred to this hospital. In a written refusal of the "prosecutor's office" of the Crimea, it is reported that the call must come from the state hospital. The Crimean human rights group possesses the document.
There is no written call from the Moscow state hospital where such operations are conducted. First they require a written referral from the Semashko Simferopol State Hospital.
According to the wife of Kabir Oksana Mohammad, in the Semashko hospital a request for a written referral was answered with an oral refusal. Doctors of this hospital say that they can't treat Mohammad and give him a written referral, because he is not a citizen of the Russian Federation, and therefore, he can't be treated and examined in the state clinic
It should be noted that Kabir received a medical examination and confirmation of his diagnosis while he was in the pre-trial establishment exactly in this particular Semashko State Hospital. Thus, the refusal of the Dean of Medicine of this hospital to give a written referral can be considered as a conscious inaction.
At the moment, Kabir's wife sent a written appeal to the Ombudsman of Ukraine Valeriya Lutkovskaia with a request to help to save the life of a citizen of Ukraine.
We recall, the citizen of Ukraine Kabir Mohammad got in jail of Simferopol instead of another person September 14, 2016 as a result of a mistake. In conclusion, he survived a second stroke, after which he was not given the necessary medical care. This stroke happened to him after another "court session". The fact is that Kabir is accused of crimes committed by another person, which, most likely, was the cause of the deterioration of health.
After a stroke, he developed severe illnesses, which also were not treated. Moreover, Kabir's lawyers had to pursued a medical examination for him through the court
Mohammad's lawyer did not manage to get a medical examination for six months, and only after a legal recourse the man was sent to the hospital. Only 11 months later, Mohammad was released from the pre-trial establishment under a written undertaking not to leave the place of residence. The reason was that due to serious illnesses, he could no longer be kept in custody. The defense appealed against the Kabir's written undertaking not to leave the place of residence, but the Crimean "court" refused to accept this complaint.