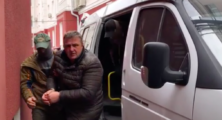 Ukrainian citizen Vladyslav Yesypenko, who was detained on 10 March in Crimea, is not allowed to see independent lawyer Emil Kurbedinov retained by the wife of the Ukrainian, Yekaterina.
According to experts from the Crimean Human Rights Group, this is proof of the illegal investigative technique and the possibility of torture.
According to Yekateryna Yesypenko, the investigative officer said that Vladislav had signed a refusal to receive legal services from the lawyer E. Kurbedinov.
On 12 March, by decision of the Kievskiy District Court of Simferopol delivered by the "judge" Oksana Karchevskaya, V. Yesypenko was taken into custody for a period of 2 months, until 11 May. The hearing was held without the participation of an independent lawyer in the presence of the appointed attorney Violetta Sineglazova. The Ukrainian is charged with Art. 223.1(1) of the Criminal Code of the Russian Federation (Illegal manufacture, modification or repair of fire weapons and their main parts (except for limited fire weapons), as well as illegal manufacture of ammunition).
It has been earlier reported that on 10 March, the officers of the Federal Security Service (FSB) of the Russian Federation detained a resident of Alushta town Yelizaveta Pavlenko and a native of Krivoy Rog city Vladyslav Yesypenko at the Angarskiy Pass. The house of Yelizaveta Pavlenko was searched for more than eight hours and equipment and personal belongings were seized from her. Vladyslav Yesypenko was taken to an undisclosed location.