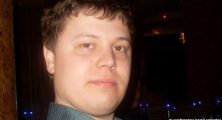 ''The Supreme Court of Crimea sentenced Mr Konstantin Davydenko, accused by Russia for spying for Ukraine, to 10.5 years in the maximum security regime penal colony, on June 6th 2019.
The Ukrainian was charged under RF CC Article 276 (collection of national security information to be delivered to a foreign power).
The 'Supreme Court' of Crimea website informs that the sentence was passed by judge Andrey Paliy, who had convicted earlier 'Ukrainian Commando' Yevgeniy Panov.
The court sessions on the "Davydenko'c Case' were held in camera. A prosecutor asked for 12 years in the colony for the Ukrainian at the court session of June 5th.
We remind that the RF FSB reported a detention of Konstantin Davydenko, a Ukrainian national and a resident of Donetsk Region, on February 11th 2018.
The operation video published by the Russian mass media, shows four plain clothed people running to Mr. Davydenko and throwing him on the ground when he tried to sit into the car. Then he was handcuffed and put into the blue van.
The Ukrainian was accused of espionage and transported to Moscow where the Lefortovo District Court remanded him in custody. Konstantin spent more than a year in the Lefortovo Detention Center. In April 2019 the 'Supreme Court' of Crimea started considering the case on the merits.