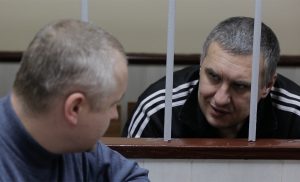 On May 15th, 2017 in the "Kiev District Court" in Simferopol a court hearing was scheduled to review the complaint subject to of Art. 125 of the Russian Federation Code of Criminal Procedure on the actions of the investigator related to the violation of the right of the person involved in the case of "Ukrainian saboteurs" Yevgeny Panov for protection. About this the Crimean Human Rights Group was informed by Mr. Panov's lawyer Olga Dinze.
According to the lawyer, in connection with the failure to ensure the Mr. Panov's delivery from the Remand Prison to the courtroom, the complaint review was postponed to May 19th.
The judge has already reported that the grounds for seeking protection of violated rights in court have disappeared, since the lawyer has already been admitted to her defendant Mr. Panov.
The Crimean Human Rights Group reported earlier that after the figurant of the "case of Ukrainian saboteurs" Yevgeny Panov was transported from the Simferopol Remand Prison to Moscow, Olga and Dmitry Dinze became his lawyers in Russia.
The lawyers tried to visit the Ukrainian, but they were hindered in this, about which they filed the corresponding complaints. The defense demanded that the actions of the investigator of the investigational department of the Federal Security Service of Russia in Crimea and Sevastopol, Selivanov Konstantin Valerievich, shall be deemed illegal and unjustified, since this investigator on November 1st, 2016 did not let the lawyers Olga Dinze and Dmitry Dinze to visit their defendant Yevgeny Panov for investigative actions in Moscow.
On December 5th, 2016, the "Kyiv District Court" of Simferopol refused to satisfy the complaint of Panov's lawyer about obstruction of admission to Panov in Lefortovo prison. The court dismissed the proceedings on this complaint.
On August 10th, 2016, the FSB of Russia reported that a group of "Ukrainian saboteurs" was detained in the occupied Crimea overnight into August 7th, who allegedly were preparing terrorist attacks at the territory of the peninsula.
Yevgeny Panov and Andrei Zakhtey sent to the Investigative Committee allegations of torture, which were applied to them after the detention.
The Crimean Human Rights Group stated that Mr. Panov and Mr. Zakhtey, like other figurants of the case of "Ukrainian saboteurs", were imprisoned for political reasons with violation of fundamental rights and freedoms, and therefore they are deemed political prisoners