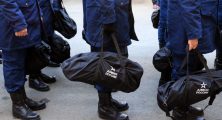 This was reported in a statement by the International Criminal Court's Prosecutor, released on 11 December. Bogdan Melnikovich, a lawyer from the Crimean Human Rights Group, explained that the International Criminal Court's (ICC) Office of the Prosecutor has already collected and filed all the documents with the court that will allow obtaining permission to investigate the situation in Ukraine. 
"The International Criminal Court's Prosecutor, Fatou Bensouda, in connection with the end of her term as Prosecutor of the ICC, announced her intention to reach determinations with respect to all files that have been under preliminary examination. She indicated the high likelihood that several preliminary examinations would progress to the investigative stage.  
The prosecutor also announced that for now the statutory criteria for opening investigations into the situation in Ukraine are met. The Prosecutor's Office concluded that there is a reasonable basis to believe that in the context of the situation in Ukraine which is under preliminary examination, in particular in Crimea, crimes against humanity and war crimes have been committed. 
Fatou Bensouda suggested that the next step will be to request authorisation from the Judges of the Pre-Trial Chamber of the Court to open investigations" — the lawyer explained.  
We would like to remind readers that the Crimean Human Rights Group collected evidences and, together with the Prosecutor's Office of the Autonomous Republic of Crimea, sent two reports to the International Criminal Court on such war crimes as  the illegal conscription of Crimean residents into the Russian Armed Forces and the propaganda of such a conscription, in particular among Crimean children.