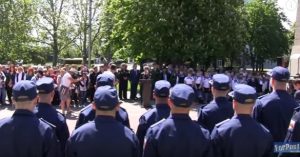 On 25 May for the first time since the beginning of the occupation of Crimea, meaningful sending of 30 conscripts for military service outside the peninsula to Russia took place in Sevastopol.
About 400 residents of Sevastopol will be drafted into the Armed Forces of the Russian Federation for the period of the spring draft campaign in 2017. This figure was announced by the "military commissar" of Sevastopol, Alexei Astakhov, at a rally dedicated to sending the first Sevastopol conscripts to serve in the Russian Federation.
Earlier it was reported that during the spring of 2017 draft campaign it is planned to send about two dozen residents of the peninsula in the occupied Crimea for military service in Russia.
In January 2017, the "government" of Crimea said that as a result of military draft of 2015-2016, more than 4 thousand Crimean residents were sent to serve in the Russian army.
The Crimean Human Rights Group (CHRG) explained earlier that the draft of the Crimeans to the Russian army grossly violates the norms of international humanitarian law.
Conducting the draft of residents of the occupied territories to the ranks of the army of the occupying power, as well as the propaganda of the service in the Armed Forces of the Russian Federation, violate Article 51 of the Convention on the Protection of Civilian Persons in Time of War (Fourth Geneva Convention), and the movement of drafted citizens of Ukraine from the occupied territory to the territory of the Russian Federation violates Article 49 of this Convention.
CHRG appeals to the residents of Crimea with a request to send to the e-mail of CHRG [email protected] materials confirming the military draft in Crimea (draft notices, photo and video materials). These materials, with confidentiality, will help in the work to end the draft on the territory of the peninsula.