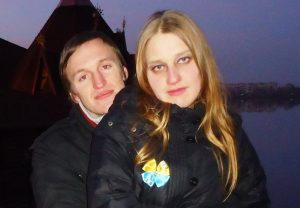 Ukrainian activist Andrei Vinogradov reported to the Crimean human rights group that after the search of the house where the couple live together with children and parents, he and his mother-in-law were offered to resign "voluntarily".
Andrey Vinogradov works in a private company "Platan", which sells building materials. "When my management at work learned about the search, they immediately offered me to resign voluntarily. At work, I was told that they were raided by the Russian Federal Security Service in 2014, and then the work was paralyzed for two weeks. Now they (the company's management, – Ed.), do not want to risk again, "- said the Ukrainian citizen.
According to Vinogradov, the mother of Natalia Kharchenko (wife of Andrei Vinogradov – Ed.), which works as a chief accountant in oil and gas company is also about to be fired. "Today she was summoned and announced a condition. They explained that this is due to the company's security measures,"- the activist reported. According to the Crimean citizen, the woman reported to co-workers about the search with the hope of sympathy. But she was immediately offered to resign.
Andrey Vinogradov said that after the search in his home another family of Crimean citizens with pro-Ukrainian views received a phone call with threats of violence. "Even relatives of our friends in Ukraine received a call and were told that it is better for them (friends) to leave Crimea", – said Andrey Vinogradov.
According to Andrey, Natalia Kharchenko has a chronic disease, and she is currenty draws a disability. In this regard, to the family with two small children it is difficult to leave Crimea and go to mainland Ukraine. "My wife and I were leaving Crimea before and lived in Dnepr, but when Natalia became sick, it was even harder to pay for housing rental, and we returned home – in Simferopol," – explained Andrey Vinogradov.
Recall that on 12 January the officers of the Russian Federal Security Service raided the house of Andrei Vinogradov and Natalia Kharchenko, seized computer equipment, and the couple was taken away for questioning by the Russian Federal Security Service. According to the Crimean lawyer Edem Semedlyaev, pre-investigation check under Part. 2 Artcle. 280 of the Criminal Code of the Russian Federation (extremism) is taking place against Natalia Kharchenko.