21.08.2017
In Crimea, a civil activist who spoke against the demolition of the village, was sentenced to 5 days of administrative arrest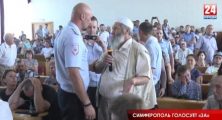 On August 20, 2017 the "Zaliznychnii District Court" of Simferopol issued a ruling on administrative punishment in the form of arrest for 5 days to the Crimean resident Fazil Ibraimov.
The "Judge" Domnikova Maria Victorovna imputed to the activist Part 1 of Article 19.3 of the Code of Administrative Offenses of the Russian Federation (disobedience to the lawful order or demand of a police officer) and ruled the administrative arrest to the Crimean resident for 5 days. The Crimean human rights group has a copy of the court decision.
In Simferopol on August 5, 2017, the occupation authorities under the leadership of "the head of the administration of Simferopol Gennady Bakharev conducted public hearings on the development of the Krymskaya Roza village. According to lawyer Mammet Mambetov, 62-year-old activist Fazil Ibraimov opposed the fact that the Simferopol authorities want to demolish the Crimean Tatar settlement with houses and a mosque.
"He (Ibraimov) wanted to discuss this issue and inform the officials that it is wrong," the lawyer said and added that Bakharev ordered the activist to be withdrawn from the hall, after which the policemen rudely took out the elderly man. Administrative protocol on Ibraimov was made by the senior lieutenant of the "police" inspector Sergeyenko A.V.
Ibraimov himself, did not admit his guilt in court, because, he said, he wanted to leave the hall on his own, but because of the large crowd of people he could not go to the exit. The Crimean also told the court that he did not give any resistance to police officers.
Ibraimov's defence will appeal this court decision. Lawyer Mambetov also said that on August 21 he tried to apply for early release of his client, suffering from diabetes, but it wasn't approved.