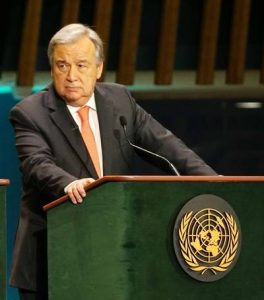 On 9 July in Kiev, there was a meeting of UN Secretary General António Guterres with representatives of human rights and public organizations. The head of the Crimean Human Rights Group, Olga Skrypnik, took part in the meeting.
Human rights defenders and activists informed the Secretary-General about many problems in the field of human rights, most of which were the result of the occupation of Crimea and the aggression of the Russian Federation against Ukraine.
The head of the Crimean Human Rights Group, Olga Skrypnik, began her speech from the public position.
"The Ukrainian government should stop discriminatory practices against residents of Crimea and IDPs, first of all, abolish the status of non-residents for Ukrainian citizens with a "Crimean residence permit" and provide Crimean residents with access to administrative services without unreasonable restrictions," – Olga Skrypnik said in her speech.
The human rights activist stressed that the policy of the blockade of Crimea is unacceptable, recalled Ukraine's obligations to preserve cultural, social and information ties with the inhabitants of Crimea. "For this purpose, such restrictions as resolution No. 1035 is not permissible," – Skripnik said.
In her speech, the leader of the CHRG noted the importance of the issue of Crimea on the agenda of the UN General Assembly and the acceptation of new resolutions that would even more clearly reflect the problems of large-scale and systemic violations of human rights in Crimea.
During the meeting, human rights defenders also informed the UN Secretary General about the problems of obtaining Ukrainian documents for Crimean residents, as well as statements of the President of Ukraine Petro Poroshenko and NSDC Secretary Alexander Turchinov about the need for thorough checks of all who wish to obtain a biometric passport arriving from the occupied territories. The activists urged Mr. Guterres to promote the protection of Ukrainian citizens residing in the occupied territories from discrimination in obtaining biometric passports.
The UN Secretary General, after a meeting with human rights defenders, went to a meeting with the President of Ukraine Petro Poroshenko, where he also discussed the problems raised by human rights defenders.