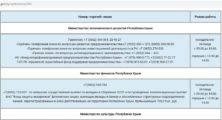 With the first cases of COVID-19 infection in the Crimea detected, the occupation authorities published lists of hot lines for getting the up-to-date information about the COVID-2019 pandemic on their websites.
The Crimean Human Rights Group monitored the operation of these "hot lines". We got through to more than 20 numbers in various cities of Crimea, including the Crimean "Ministry of Health Care", "Ministry of Resorts", "Ministry of Education", "Ministry of Transport", "Ministry of Industry".
It was said at the 'Ministry of Health Care' hotline that everyone, without exception, when indicated would be tested for COVID-2019. The "Ministry of Industry" does not know whether state enterprises will be stopped on the peninsula, and has advised to contact the labor inspectorate if someone tries to put an employee on leave at their own expense instead of paid days off. The hotline operator of the "Ministry of Transport" informed that the work of public transport in the Crimea had not been stopped so far.
We managed also to reach district and city information monitoring services in 15 district centers of Crimea. In most districts, hotline operators do not know where there are COVID-19 tests in their city/town. In case of symptoms, they advise calling a doctor home or recommend going to local hospitals. The information service of the Central District Hospital of Alushta said that tests could not be done at the hospital.
In Sevastopol, the "hot line operator said that the test for COVID-2019 could not be done at the city private clinics though could be done in Simferopol. At the same time, the transport department specified that it was impossible to leave the city by public transport, for this purpose it was necessary to look for a private car. Operators of almost all "hot lines" do not know when masks and antiseptics can be publicly available. They advise to contact city pharmacies with this question. Some operators advised self-making masks or trying to buy them at the local tailors. The CHRG has published earlier the Crimea pharmacies monitoring results that demonstrate shortage of personal protection means for Crimeans.