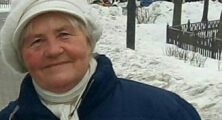 The "Sevastopol City Court" began considering the merits of the "case" of 66-year-old Ms Galina Dovgopoloya, resident of Sevastopol, accused by the FSB of the Russian Federation "of committing high treason" (Article 275 of the Criminal Code of the Russian Federation, punishable by imprisonment for twelve to twenty years).
The case was registered in "court" on February 4, 2021. The first court session took place on 17 February. The next meeting is scheduled for March 10.
According to the Crimean Human Rights Group, the "Ms.Dovgopolaya's Case" is being considered by Igor Kozhevnikov, a RF national, a former judge of the Zadneprovsky District Court of Smolensk. He was the chairman of the panel of "judges", that considered the case of "Ukrainian commandos" Volodymyr Dudka and Oleksiy Bessarabov.
Note: in January 2020, the Crimean Human Rights Group reported that in November 2019, an elderly woman, Ms.Galina Dovgopolaya, was detained in Sevastopol. As claimed by the RF FSB, she was said to have "purposefully collected secret military information" on the instruction of the Ukrainian Military Intelligence Service.
On November 27, 2019, the "Leninsky District Court" of Sevastopol placed G. Dovgopolya in detention, followed with convoying the elderly woman Lefortovo (Moscow, RF).