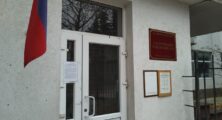 The Gagarinsky District Court of Sevastopol postponed the hearing on the criminal case against Viktor Stashevsky. The defendant in the "case of Jehovah's Witnesses" Viktor Stashevsky could not attend court due to his health condition. Judge Pavel Kryllo granted the motion for continuance and took a recess.
The diagnosis of the political prisoner was not mentioned during the hearing, but the lawyers asked to allow the results of fluorography to be joined to the case record. The date of the next hearing has not yet been determined.
Details about the state of health of the political prisoner are being specified.
We would like to remind readers, that on 4 June 2019 in Sevastopol, the FSB conducted searches in at least nine homes of local believers. The 52-year-old Viktor Stashevsky was detained; however he was released from custody the following day on his own recognizance. A criminal case was initiated against him under the article "Extremist activities" (Part 1 Art. 282.2 of the Criminal Code of the Russian Federation).
On 19 October 2020, a new criminal trial was initiated against Viktor Stashevskiy. The case is being reviewed by "judge" Pavel Kryllo.
The Crimean Human Rights Group experts previously stated that the deprivation of liberty of Jehovah's Witnesses in Crimea is a complex of violations of human rights and international humanitarian law and, accordingly, falls under the jurisdiction of the European Court of Human Rights and the International Criminal Court.