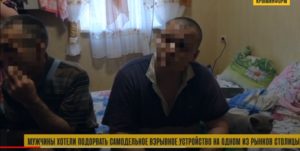 On June 10, 2020, the Federal Security Service of the Russian Federation detained Andrey Kuliyevich, a 20-year-old local resident, in Sevastopol. He is charged with RF CC Articles 205-1 and 280-1 (Preparation of act of terror and public extremism incitement). His home was searched, his phone and e-media withdrawn. The Crimean Human Rights Group was informed about this by lawyer Sergey Legostov.
According to the lawyer, Kuliyevich has been placed in a temporary detention center, and the next day he would be subject to a pre-trial restriction.
The Crimean Human Rights Group has become also informed that the "Kuliyevich case" is connected with detaining five persons on June 10, who as stated by the RF FSB, allegedly "were preparing a terrorist attack in one of Simferopol markets".
"It is found out that the detainees were preparing to activate a homemade explosive device in one of the markets of the republican center, and also propagated the ideology of terrorism and extremism on the Internet," the FSB told the Russian media.
According to the Russian security service, the detainees were in close contact "with representatives of radical Ukrainian forces fighting in southeastern Ukraine."
In a video of detaining the Crimeans published by Russian media, you can hear a FSB officer reading out: "… disseminating materials inciting the violation of territorial integrity… on the VKontakte social network'. The CHRG experts suggest that Crimeans' publications most likely called for returning Crimea to Ukraine.
The FSB claims that homemade explosive devices, weapons, ammunition and communication equipment containing information about the alleged crimes were withdrawn.
According to the INTERFAX Russian news agency, starting a criminal case under RF CC Articles 30-1, 205-1 and 205.2 (Preparation of act of terror, Inciting the terror actions in public) against the detained is in process.