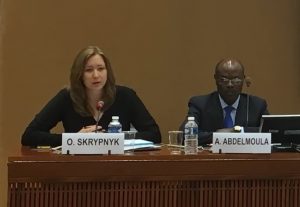 "Each day of unlawful imprisonment, every day in prison for Ukrainian political prisoners should cost Russiaa lot of money and political losses", – said Olga Skrypnyk, the coordinator of the Crimean Human Rights Group, during a special event at the Palais des Nations, where the United Nations office in Geneva is situated.
The event under the topic "International monitoring of human rights situation in Crimea: Conclusions and Prospects" was organized on17June by the Permanent Mission of Ukraine and Latvia in the UN. It was attended by Sergiy KYSLYTSYA, Deputy Minister for Foreign Affairs of Ukraine, Mustafa JEMILEV, MP of the Verkhovna Rada of Ukraine and Commissioner of the President of Ukraine for the Crimean Tatar People Affairs, Adam Abdelmoula, Director, Human Rights Council and Treaty Mechanisms Division, OHCHR, Bojana URUMOVA, Deputy to the Director, Office of the Commissioner for Human Rights, Council of Europe, Ayşegül AYDINGÜN, a professor of Middle East technical University (Turkey) and Olga Skrypnyk,head of Crimean Human Rights Group. Moderated by Florian IRMINGER, Head of Advocacy, Human Rights House Foundation.
Olga Skrypnykreported about the latest tendencies in the field of human rights in Crimea, reported regarding the illegal verdict to Andrei Kolomiets and about Muslims persecution on the "Hizbut-Tahrir case". She also told about the persecution of Ukrainian activists for photos on social networks andabout the problem with Ukrainian number plates. OlgaSkrypnyk also drew attention to the problem of accelerated militarization of the Crimean society – the growth of paramilitary organizations – Cossacks, self-defence, Russian patriotic organizations, constant demonstrationof military exercises and military equipment transportation.The opening of themilitary camp for children in the international children's camp "Artek" is astriking example of that.
In her recommendations, representing the Crimean Human Rights Group, she pointed to the need of improvement of the existing mechanisms for the protection of human rights and to the prosecution of representatives of the state thatviolate human rights in Crimea. She pointed to the importance of providing professional advice on methodology aspects and tools for the work of international monitoring missions in Crimea. Olga Skrypnyk stressed that it is important to increase international pressure on Russia towards the release of political prisoners and the restoration of violated rights.
Participants also discussed the results of the previous international missions in Crimea and the prospects of organization of the new missions.
During the discussion, the representative of the Russian Federation made his statement in which the historical questions regarding Crimea were more important for him than international standards and territorial integrity of states. Discussion moderator Florian IRMINGER immediately remindedabout the UN General Assembly resolution on the territorial integrity of Ukraine to the Russian representative.
According to Olga Skrypnyk, the Russian representative demonstrated the tools of Russian propaganda and the fact of ignoring of the international law.