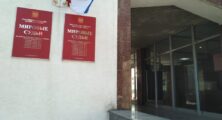 The third precinct of the 'Municipal Court" of the Kievsky district of Simferopol, has started considering an administrative offense case against Mr.Bekir Mamutov, the editor-in-chief of the Qirim newspaper.
The session was held without the audience present, because the people were not allowed to be in the courtroom due to restrictions related to the coronavirus infection.
As Bekir Mamutov said after the session, the position of the newspaper's editorial board had been presented to the court, and then the hearing was adjourned due to the absence of representatives of Roskomnadzor, who had drawn up an administrative report.
The report was drawn up on Mr.Mamutov under Article 13.15 of the Code of Administrative Offenses of the Russian Federation for the publication of the report of the UN Secretary General, that had mentioned the Mejlis of the Crimean Tatar people. The Federal Service for Supervising Communications, Information Technology and Mass Media found the publication to be a violation of the Russian law, since the Russian Federation recognized the Mejlis as an extremist organization which activities are prohibited, and when mentioning this organization in media publications, the ban on its activity in the Russian Federation shall be indicated. Since such information was missed in the UN SG report cited in the Qirim Newspaper, the administrative report was drawn up on the editor-in-chief. The next hearing is to be held on April 20th.