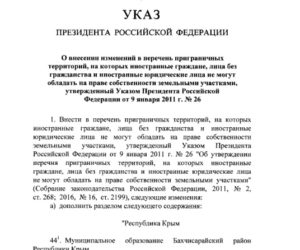 On March 20, the President of the Russian Federation signed an edict that, in fact, only citizens of the Russian Federation may have a title to land in Crimea. According to the Edict, most of the peninsula territory is included in the list of lands that shall not be owned by foreign citizens and stateless persons as a property.
Mr.Aleksandr Siedov, a Crimean Human Right Group expert, explains that only the documents issued in Ukraine are valid documents on land ownership in Crimea, since the Crimean peninsula is an integral territory of Ukraine occupied by the Russian Federation.
Since this fact is validated in several UN resolutions and other international acts, the Ukrainian ownership documents, correspondingly, are considered by international courts as valid.
"At the moment, it is not clear how the occupying authorities of the peninsula will deal with the land property of Crimean residents who did not receive a Russian passport. In case of any attempt to deprive them of land, the actions of the occupying authorities will constitute a violation of property rights (Article 1 of the Additional Protocol of the European Convention on Human Rights, Article 53 of the Geneva Convention IV, Article 46 of the Hague Convention on the Laws and Customs of the Land War). Since, based on the text of the Edit, only Crimea residents who under the occupation received the passport of the occupying country can have the right of ownership, the order of the President of the Russian Federation is discriminatory on the basis of possessing/ not possessing the Russian Federation documents. This is also one more approach to force the Crimean residents to obtain a RF passport that constitutes a violation of the Hague Convention', the human rights defender told.
Therefore, any restriction of the proprietary right granted before the occupation would constitute a severe violation of human rights and the international humanitarian law standards.