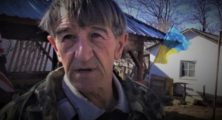 The Southern District Military Court in the city of Rostov-on-Don in the Russian Federation sentenced Mr. Prykhodko to 5 years in a high-security prison.
The Russian court charged the elderly Ukrainian with Art. 30(3) of the Criminal Code of the Russian Federation (preparation for a crime and attempted crime) and Art. 222.1(1) of the Criminal Code of the Russian Federation (illegal acquisition, transfer, sale, storage, transportation or carry of explosives or explosive devices). Article 223.1 (illegal manufacture of explosives, illegal manufacture, modification or repair of explosive devices) was withdrawn due to the expiration of the term for engaging.
It is worth reminding that Oleg Prykhodko was detained by the FSB officers on 9 October 2019. In the afternoon they came to his place in the village of Orekhovo, Saki District, and declared they would search the garages. Prykhodko accompanied them to his garage with no outdoor clothes and no cell phone and never returned home.
During the search, the security officials seized Ukrainian symbols, flags of the Svoboda party, red and black flags, a portrait of Stepan Bandera, equipment and home CDs from Prykhodko.
On 10 October 2019, the judge of the Kievsky District Court, Anton Tsykurenko, upheld a motion brought by the "investigative officer" and imposed a pre-trial restraint on Oleg Prykhodko in the form of detention in custody.
The Ukrainian repeatedly insisted in court that he had not committed or planned any crimes, the case against him was completely falsified and he was being prosecuted for his pro-Ukrainian position.
The Crimean Human Rights Group demands the immediate release of Oleg Prykhodko together with the other Crimean political prisoners.