The facts of discrimination of Crimean Tatars on ethnic grounds were recorded in administrative cases on single pickets on October 14. This is reported in the Crimean human rights group monthly review in December 2017. There's a copy of the document in the review, which appeared in several administrative cases against participants of single pickets.
This is the report of Olga Khaimenova, "Head of the department for the implementation of administrative legislation of the Ministry of Internal Affairs of the Russian Federation in Simferopol" . The document states that "unauthorized persons are conducting unauthorized mass protests presented as single pickets, by placing the Crimean Tatar population along the roads and city roads … that causes discontent among the Slav population of Crimea …"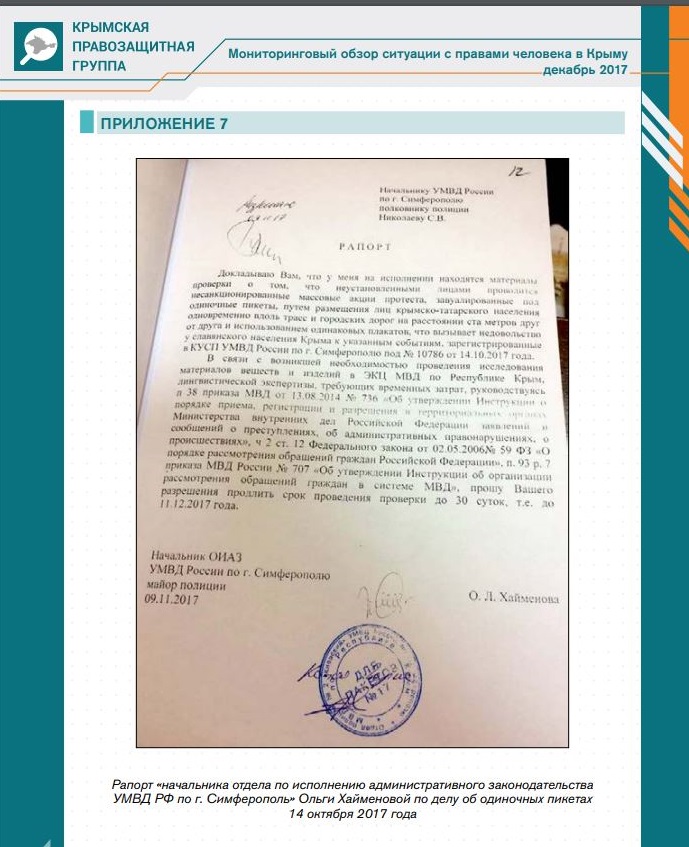 Such formulations point to the discrimination against peaceful Crimean Tatar participants on ethnic grounds.
It is noteworthy that such a report appeared even in the case of an ethnically Russian Muslim who also went to a single picket on that day.
We recall that during the period from December 18 to December 26, a minimum of 75 court sessions were held in Belogorsk, Alushta, Sudak, Sovetskii, Dzhankoi, Kirovskoie, Krasnogvardeiskii and Simferopol district to consider administrative cases against Crimean residents who went to single pickets on October 14 with appeals to stop the persecution of Crimean Tatars and Muslims of Crimea. The most of the judicial proceedings (65 court session) were held on December 18. At least 6 court sessions were held in January 2018. All participants of single pickets were found guilty on violating part 5 of Art. 20.2 of Code of Administrative Offences (Participation in an unauthorized mass event).
According to the courts' judgments that are available to the CHRG "the accused abused the right to freedom of peaceful assembly by holding a mass event under the guise of single pickets." To prove that, it is pointed out that the posters "Muslims are not terrorists", "Freedom for political prisoners of Crimea", "Stop terrorizing Crimean Tatar people", etc were "united by an ideological and thematic focus".
Most of the judgments on administrative penalty include a fine of 10,000 rubles. The "Dzhankoi District Court" judges ordered 8 decisions on fines of 15,000 rubles. According to the information available in the CHRG, the total amount of fines imposed in this case, taking into account the January decisions, is 850,000 rubles. Thus, unjustified and unlawful punishments were applied to participants of peaceful single pickets, which is a flagrant violation of freedom of assembly.
The Crimean Human Rights Group fixed at least 353 administrative cases against participants of peaceful assemblies in Crimea. The total amount of fines for participation in peaceful assemblies for January 2018 was 3,842,500 rubles.