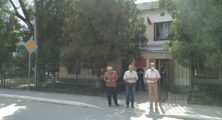 On July 23, 2020, the "Armeniansk City Court" read the indictment on the "criminal case" against the leader of the Crimean Tatar people Mustafa Dzhemilev.
The case of Mr.Dzhemilev is being considered by the "judge" Venera Isroilova. During the session, lawyer Nikolai Polozov made a number of motions, including a demand to suspend the proceedings since Mr.Dzhemilev had been imposed a ban to enter the territory of the Russian Federation, and this prevented him from participating personally in the proceedings. Also, the lawyer objected to the absentee form of considering the case, since the court knew the whereabouts of the defendant, and there were no grounds for considering the case in his absence.
The session was held open for attending. As requested by the lawyer, four audience members were allowed into the room. But when entering the 'court' they were demanded to leave mobile phones and other devices.
Earlier, the Investigative Committee of the Russian Federation in the occupied Crimea published an accusation brought against Mustafa Dzhemilev on April 13. It is reported that he was charged with "crossing the state border of Russia by a foreign citizen who is not allowed to enter Russia, committed by a group of persons by prior conspiracy (the RF Criminal Code, Article 322-2); negligent storage of firearms, that created conditions for its use by another person, if this entailed grave consequences (the RF CC Article 224), illegal acquisition and storage of ammunition (the RF CC Article 222-1).
The Investigative Committee claims that on May 3, 2014, "Dzhemilev, accompanied by other persons, crossed the Russian state border at the checkpoint" Armyansk "(Turkish Val), but his further unlawful acts to stay on the territory of the Republic of Crimea were prevented by officers of the security forces."
In addition, the Russian investigation claims that "Dzhemilev kept an OP-SKS short rigle of 7.62 mm in the safe in his own house in Bakhchisarai, his son knew where the key to the safe was, and in May 2013 Dzhemilev's son illegally took the weapon, and killed  a man. "
Mr.Dzhemilev is also charged with "illegal acquisition and storage of live ammunition for rifled firearms of 7.62 mm, suitable for shooting and prohibited in civilian circulation".
According to lawyer Nikolay Polozov, the files of the Ukrainian case of his son Hayser are being used against Dzhemilev.
Also, according to the lawyer, the cases of Mustafa Dzhemilev and the head of the Mejlis of the Crimean Tatar People Refat Chubarov are being investigated by the same person – Magomed Magomedov.
 Mustaga Dzhemilev stated that a criminal case of the Russian FSB started against him in the occupied Crimea was being used for the further forcing the Crimean Tatars out from the peninsula.
The Crimean Human Rights Group considers the case against Mustafa Dzhemilev, Leader of the Crimean Tata People, politically motivated.