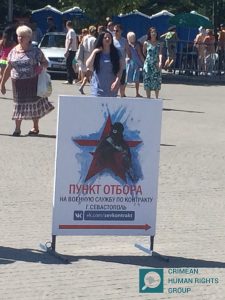 On 30-th July, 2017 another action was held in Sevastopol calling to serve under the contract in the Russian army. The citizens of Sevastopol again were recruited for military service.  
At the so-called "point of selection for military service on a contract basis" they distributed booklets with agitation to serve in separate coastal defence brigade 126 and in landing ships brigade 197 of the Black Sea Fleet of the Russian Federation.
Agitation was held in Sevastopol during the celebration of the day of the Navy on Nakhimov Square.
According to the Crimea.Realii website, an exhibition of land military equipment was held on the same square; The exhibition included: a mobile coastal anti-ship missile system "Bastion" with a unified homing missile "Yakhont", a mobile command and staff radio station, a floating wheeled armoured personnel carrier, an anti-aircraft missile system S-300 "Favorit" for the destruction of modern and prospective aircraft, a 122 mm missile-antiaircraft complex Grad, a multiple launch rocket system "Uragan", an anti-aircraft missile system "Pantsir", an air defence missile system "Osa", a charging car, a self-propelled artillery "Gvozdika".
According to Russian media, the occupation authorities held a naval parade in the city, where military a demonstration fire was organized. The event began with the entrance of the three-masted sailing frigate "Khersones" to the Sevastopol Bay, at which students of the Ukrainian University (Kerch State Maritime Technological University) earlier had a maritime practice. According to local and Russian media, the training ship "Perekop", missile cruiser "Moscow" and the diesel-electric submarine "Stary Oskol", as well as the naval aviation Ka-27 helicopters and Su-30SM fighters, also took part in the military parade.
Such actions of the Russian Federation in the territory of Ukraine, which was occupied by it, grossly violate international humanitarian law and are prohibited by international conventions.
The Crimean Human Rights Group (CHRG) earlier recorded the holding of similar agitation events for military service in the Russian army in the occupied peninsula.
We remind you that Article 51 of the Geneva Convention on the Protection of Civilian Persons in Time of War explicitly prohibits the invocation of an occupying power in the occupied territory.
The head of the CHRG, Olga Skrypnik, noted that among other things the Convention prohibits propaganda of the military conscription in the occupied territories, including all the advertising posters, various "patriotic" events in schools and universities where people are called to go to the Russian army. Both contractual and regular service are under the ban.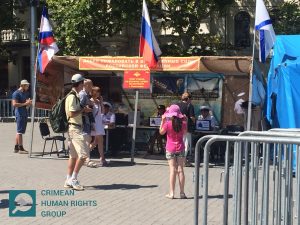 Photos of the mobile point of military drafting and promotional booklets were made on 30 July in Sevastopol.