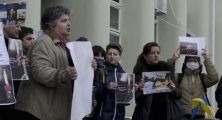 Yalta Сity "court" sentenced Crimean activist and Ukrainian citizen Larisa Kitayskaia to two years probation for posts on social network (part 1 of Article 282 of the Criminal Code).
According to the decision of the Yalta City "court" "judge" Volodymyr Romanenko, Larisa Kitayskaia can not leave the city of Yalta while serving a sentence.
The Crimean Human Rights group reported earlier that the activist was pursued by Russian special services since July 2016.
Criminal code of Russian Federation, Article 282. The incitement of hatred or enmity, humiliation of human dignity.
Part 1. Actions to incite hatred or enmity, as well as humiliation of dignity of a person or a group of persons on grounds of gender, race, nationality, language, origin, attitude to religion, as well as belonging to a social group, committed in public or with the use of mass media or information and telecommunication networks, including the Internet.