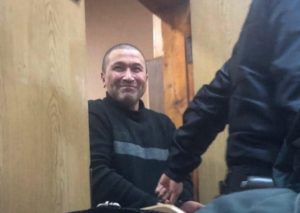 On March 3, 2020, the 'Yalta Town Court' decided to place Crimean activist Yunus Masharipov in the mental hospital for intreatment under an intensified monitoring.
The defense of the Crimeans will appeal this decision.
The Crimean Human Rights Group was informed about this by Aleksey Ladin, Masharipov's lawyer.
Compulsory treatment is, in fact, an unlimited measure, since the medical commission takes a decision on cancelling or extending such treatment just once in 6 months.
According to Mr.Ladin, he intends to appeal the decision of the "court". "We will appeal. Until the appeal court makes a final decision, Yunus Masharipov will be in the detention center', Mr. Ladin said.
The lawyer asked the "court" to declare Masharipov not guilty, and if mental health problems were found, he should be treated on an outpatient basis without deprival of liberty.
According to the lawyer, Masharipov's innocence is indicated by some circumstances established during the trial. When detecting dangerous explosive devices, the FSB men did not take any safety measures. According to the defense, they had the opportunity to put these items where they were found. And the innocence of Masharipov is indicated also by taking forcedly his biological samples, which were said to have been found on the explosive devices. These actions were carried out without the presence of a lawyer, that violated substantially the right of the Crimea for defense.
We would remind that Mr.Masharipov was arrested in September 2017. According to his words, the Russian FSB men beat him up and electrocuted, so he had to confess to untruths.
The Crimean TV Channel controlled by the Crimea occupation authorities published a video of Masharipov's FSB interrogation. During the interrogation, he said that he "had collected information about the socio-political situation in Yalta, threw around syringes on the beaches to disrupt the tourist season, set fire to the forest and distributed anti-Russian leaflets". As stated in the video, Masharipov had done this "at the initiative of the Mejlis of the Crimean Tatar People, and had been supervised by the Security Service of Ukraine." 'The Yalta Town Court' sentenced Mr.Masharipov to 4 years in the colony and a fine of RUR110,000. He was accused of storing explosives. The cassation instance of the Russian "Supreme Court" of Crimea upheld the complaint of Masharipov.