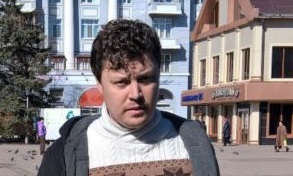 The 'Supreme Court' of Crimea has started considering on the merits the case of Mr Konstantin Davydenko, charged by Russia with spying for Ukraine.
The first court session was planned for April 22nd 2019, but it did not take place because the defendant was not transported to the 'court'.
According to the information of the 'Supreme Court' of Crimea, the files on the 'case of Davydenko' had been received by the Court on March 28th 2019. On March 29th they were delivered to 'judge' Andrey Paliy, who earlier had passed a sentence on 'Ukrainian commando' Yevgeniy Panov.
The court hearings on the 'case of Davydenko' would be in camera.
We would remind that the RF FSB[1] reported detaining Mr Konstantin Davydenko, a resident of Donetsk Region and a Ukrainian national, in Simferopol on February 11th 2018.
The operation video published by the Russian mass media shows how four people in civvies ran to Mr Davydenko, and threw him on the ground, when he was trying to get into the car. He was handcuffed and out into a blue van.
According to the Russian security service's version, Mr Davydenko had been 'purposefully' collecting the information 'on activities of the Military Federal Service units and groups of the Russian Federation National Guard' and transferring it to the Ukrainian security service. In addition, as reported, the detained had been collecting the FSB staff data.
The Ukrainian was charged with espionage (Article 276 of the Russian Criminal Code) and moved away to Moscow where Lefortovo District Court decided on custodial detention for him as a pre-trial restriction. Konstantin Davydenko spent over year in the Lefortovo Detention Center. On April 9th the court extended his restriction again.
[1] Federal Security Service