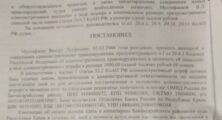 The "Bakhchisaray District Court" fined Mrs.Venera Mustafayeva RUR1,000 rubles without her attending the session. A fine was imposed for violation of Art. 20.6.1 of the Code of Administrative Offences of the Russian Federation.
Also the audience was not allowed into the courthouse. A court officer grounded the ban by measures to prevent the spread of coronavirus infection. The defense intends to appeal the decision of the court, and Ms. Lilia Gemendzi, the lawyer of Mrs.Venera Mustafayeva, filed a complaint against the actions of the court officers.
"Today I arrived at the courthouse at 12:57, court officer Podoliakin did not let me into the courthouse, and said to wait on the street, and I complied. On the street my client, Mrs.Venera Mustafayeva, joined me. Nobody called us to court, 10 minutes later we tried to enter again, went through a security check, registered ourselves in the book of visitors, the time was 13:17. We went to the courtroom to wait for a call to the courtroom to attend the hearing. The policeman who had drawn up a report on Mrs.Mustafayeva, and an interpreter were also at the courtroom. And we were waiting for about two hours, all this time being told that we had to wait, and that the judge was in the consultations room considering a court protocol. We were honestly waiting all this time. Then the judge's secretary came to the waiting room, I asked how long we should still wait, and she invited us to the court for pronouncement. This surprised me, but we had indicated that this administrative proceeding should be terminated because the period of limitations had expired, so I thought that the judge had summoned us to inform about the termination of the proceedings. Judge Morozko pronounced the decision, and it became clear that the judge had considered the proceedings in our absence, found Mrs.Venera Mustafayeva guilty of committing an administrative offense under Article 20.6.1 of the Code of Administrative Offences of the Russian Federation, and imposed a fine of RUR1,000 rubles', Ms Lilaa Gemendzi said.
We would remind that Mrs.Venera Mustafayeva, the mother of the imprisoned Crimean Tatar activist Server Mustafayev, was drawn up an administrative report for holding a single-person protest in support of her son. She held the protest on September 5, 2020, and on September 22, she was summoned to the police and told that two protocols had been drawn up against her for holding this action under Art. 20.2 and Art. 20.6.1, the Code of Administrative Offences of the Russian Federation.