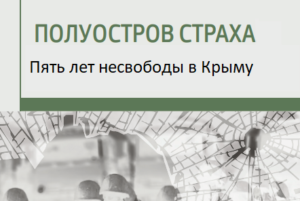 Ukrainian human rights experts have prepared the third edition of 'Peninsula of Fear: Five Years of Non-Freedom in Crimea'. The book, based on consolidating a number of facts and recreating a chronology of occupying Crimea by the Russian military men and security forces, reviews main aspects of violating the human rights on the peninsula for five years of occupation. A substantial part of the book is fundamental documents providing an international legal evaluation of RF actions in Crimea, legal and regulative RF documents used by Russian authorities to expand unlawfully the Russian laws validity on the occupied territories, acts of Crimean authorities de facto approved to support the occupation of Crimea by Russia.
The book will be presented at the 'Book Arsenal' on May 24th for the first time.
Within the framework of debate titled 'Peninsula of Fear: Human Rights Under Crimean Occupation' human rights experts: Ms Olga Skrypnyk, Ms Tetiana Pechonchik, Ms Oleksandra Romantsova, and Ms Irina Siedova – would consider main aspects of human rights violations on the occupied territory.
We invite everybody to attend this event to be held on May 24th, Friday, 12h00 – 12h45, EXLIBRIS Hall, Book Arsenal. A copy of the book may be received free of charge at the presentation.
The book authors are: Ms Olga Skrypnyk (Crimean Human Rights Group), Ms Oleksandra Matviychuk (Center for Civil Liberties), Ms Dar'ya Svyrydova (Ukrainian Helsinki Human Rights Union), Ms Tetiana Pechonchik (ZMINA Human Rights Centre), Mr Serhiy Zayets (Regional Human Rights Center), with Ms Irina Siedova, Mr Volodymyr Chekryhin, and Mr Oleksandr Siedov (Crimean Human Rights Group) involved into developing certain sections.
The event is organized by the Crimean Human Rights Group.
*Entrance to the Book Arsenal territory is fee charged. For more information, visit Book Arsenal website.