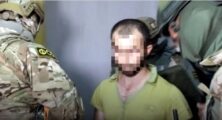 On July 21, 2020, the State Duma of the Russian Federation adopted bill No. 982396-7 "On Amending Article 7 of the Federal Law" On the Federal Security Service', and on August 3, 2020, Russian President V. Putin signed it.
The law defines that "professional secrets of federal security service bodies shall include information that does not contain national security information and classified information protected by law, the disclosure (dissemination) of which may endanger the security of the federal security service bodies and (or) harm their image" …
The law prohibits the publication of such information without the consent of the FSB representatives.
In fact, these norms deprive people of the opportunity to publicly criticize and disseminate information about the unlawful actions of FSB officers and violations of human rights. The law creates additional conditions for the impunity of security service officers.
The law has been also enacted  on the territory of the occupied Crimea, which violates the norms of international humanitarian law.
This indicates a further curtailment of freedom of speech, and enforcing it against the residents of Crimea results into a number of threats in the field of human rights on the peninsula
For the past six years, the Crimean Human Rights Group has been regularly recording the facts when the human rights are violated by representatives of the FSB on the territory of the peninsula occupied by Russia. In addition, the review of court decisions on punishing for torture suggests that security officers remain unpunished for committing such crimes.
It is also worth noting that political prisoners, representatives of religious and ethnic groups who do not agree with the occupation of Crimea, most often become victims of torture, inhuman treatment and other illegal methods of investigation. The ban on disseminating the information about such violations creates a new threat, first of all, to the protection of fundamental human rights in Crimea.
The CHRG experts anticipate that the Russian authorities will use the new law to conceal information about the unlawful actions of the FSB and persecute local activists who report arrests, searches, torture, court hearings, politically motivated criminal cases, etc.