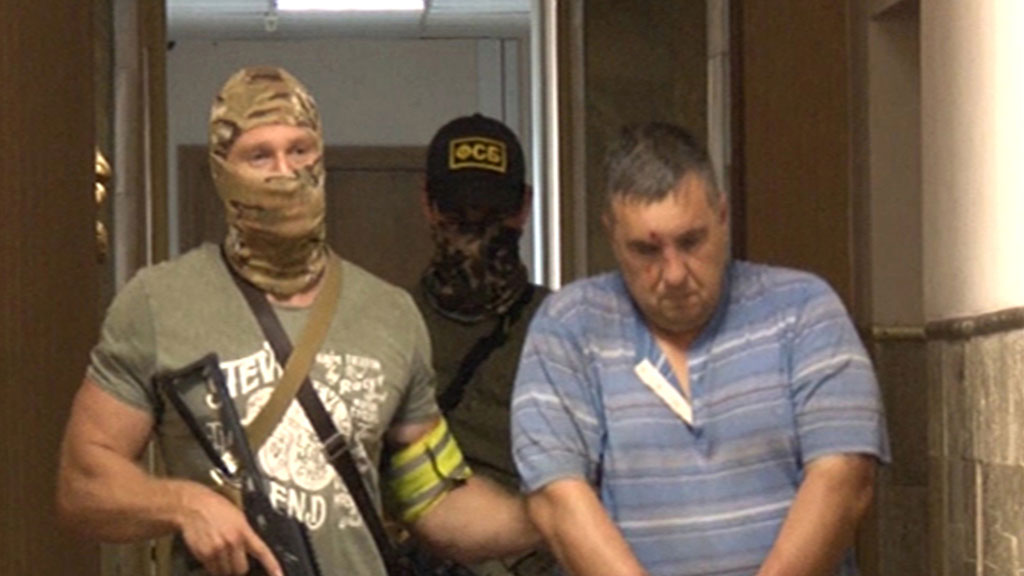 Igor Kotelyanets is brother of Ukrainian citizen Evgeny Panov which was arrested in the Crimea according to so-called "Case of Ukrainian saboteurs". Igor told to the Crimean Human Rights Group details of torture, which forced Evgeny to stipulate himself.
Igor Kotelyanets reported that during meeting with the defendant his lawyer had found scars on his hands from the handcuffs, multiple dark color spots (black circles) on the right foot. Panov's legal protection suggests that these bruises and scars appeared at Panov's body as a result of torture.
This information was confirmed by the Ukrainian Helsinki Human Rights Union (UHHRU). Lawyers received Russian documents from which it follows that a suspected terrorist – Ukrainian citizen Evgeny Panov gave testimony under the pressure.
At the end of August 2016 the letter was sent to the European Court of Human Rights with petition to release Evgeny Panov and his return to the territory of Ukraine by the rule of 39. This letter was sent by UHHRU on behalf of Panov's brother Igor.
"European court under this letter has started communication between the governments of Ukraine and Russia, in order to collect all documents and explanations about the injuries. As a result, the European Court received documents from the Russia about the state of Panov's health, which describes his complaints and injuries, and Russia itself will investigate how he got these injuries. European Court was satisfied and decided to refuse the application of rule 39 (Panov's extradition to Ukraine – Ed.)" – said lawyer, which works with the Center of Strategic Affairs UHHRU for Human Rights Alexander Zarutsky.
Experts of Crimean Human Rights Group assume that the Ukrainian had been tortured during the period from 7 to 12 August, most likely by FSB officers.
According to Igor Kotelyanets, Evgeny Panov did not know the surnames of persons who had tortured him and did not even seen them, since on his head was placed an opaque bag, which was tied up with a tape.
Evgeny Panov also informed that during the detention 7 August FSB officers hit him, which entailed dissection at the forehead. On the video, published by the Russian intelligence services, it is seen. He answered on the questions according to a previously prepared FSB paper.
Evgeny Panov told in detail what torture was used to him: physical and psychological.
Handcuffs were tightly fixed for 7 days, from which Eugene had felt a lot of pain. His handcuffed hands was buttoned under his knees, stick thrusted, then he was lifted up and beaten on his shins with a metal pipe. Panov also said that after the arrest, he was beaten and torture was applied to his genitals.
On Panov's head was placed a bag, due that he could not see anything. As a result, the Ukrainian had lost orientation in time and space, he did not know – night or day, also he experienced fear. In the period from 7 to 12 August Panov not fed, he was given only a water. This, according to Panov, was somewhere in the north of the Crimea.
In Simferopol, the torture had continued. They bound him to a chair with duct tape, attached wires to a naked parts of his body and plugged the electric current. Panov said that he strongly screaming in pain and asked to stop the torture, but they only laughed at him. This continued for about a day.
Panov said that the purpose of torture – to force a confession that he allegedly Ukrainian saboteur who came to the Crimea to blow up the houses, people, to poison the water, etc. After of this torture Ukrainian was forced to incriminate himself and to sign some protocols. Panov said to his Russian state lawyer about torture, but, according to him, Panov does not know whether the lawyer filed a complaint on it ", – said Igor Kotelyanets – brother of the arrested