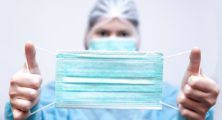 On May 18, in Crimea, the regime of compulsory "self-isolation" which in fact forbade leaving the house without "special necessity", was cancelled. Such restrictions have been in force in Crimea since the beginning of April. In particular, Crimeans were fined during this period because, according to the police, "they were at a significant distance exceeding 100 m from their place of residence."
The experts of the Crimean Human Rights Group monitored the sites of the "courts" of Crimea. Within this period, at least 5,211 administrative reports drawn against the peninsula residents, were sent to the "courts" . The punishment verdicts were issued in 3,947 of them. 1,078 administrative proceedings are still awaiting a decision.
In 67 cases, the "courts" of the first instance ruled to dismiss the case. In the "courts" of the second instance, a total of 38 appeals against decisions on fines were considered, and in only one case the decision was canceled.
Only last week 601 punishment verdicts were passed in Crimea under Art. 20.6 and 20.6.1 of the Code of Administrative Offences of the Russian Federation (Failure to comply with the rules of conduct in an emergency or threat of its occurrence).
It should be noted that some Crimean "courts" do not publish information on considering such proceedings, which means that the actual number of administrative penalties for violating the rules on "self-isolation" may be higher.
We would remind that the Crimean Human Rights Group (CHRG) regularly monitors the situation on the response of the occupying authorities of the peninsula to the COVID-19 pandemic in Crimea and publishes weekly reviews. CHRG experts note that the practice of compiling protocols and issuing court decisions under RF CoAO Art. 20.6.1 demonstrates an arbitrary interpretation of the rules of this article. It is important to note that the edict on the "high alert" regime does not explicitly prohibit visiting public places. At the same time, the rule on "self-isolation" is often interpreted by police as an absolute ban on going out.