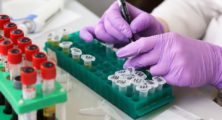 After the Crimean Human Rights Group published the information, that to be tested for coronavirus (SARS-CoV-2) in Crimea at will was impossible, the head of company branch in Crimea Mr Emil' Bavotdinov claimed that the GEMOTEST private laboratory, though had done paid SARS-CoV-2 tests before, 'suspended now the activity in Simferopol due to restrictions on transporting the biomaterial'.
"We are currently in the process of consultations with Rospotrebnadzor regarding the transportation of these test materials. There is a restriction for the biomaterial of such type, as this is the second level of pathogenicity, to be transported from the entity to entity. There are a number of requirements that, in principle, we are ready to meet, we are waiting for the approval of Rospotrebnadzor to be authorized for transporting this type of biomaterial. Once it is received, we will restart the work in Crimea,' the TASS Russian News Agency cited Mr Bavotdinov.
However, in the telephone conversation which record is at disposal of the Crimean Human Rights Group, a HEMOTEST employee when asked by a Simferopol resident whether it was possible to undergo testing in this laboratory in Crimea and Sevastopol, answered: "No, unfortunately, we still do not do in Simferopol (tests – ed.)'. As she said, the SARS-CoV-2 tests could not be also done in other cities of Crimea and in Sevastopol, the service still being available only in Moscow and the Moscow region. When asked whether it was planned to do tests in Crimea, the laboratory replied that such plans did exist, but the date was still unknown.
We would remind that in the course of monitoring the "hot lines" in Crimea done earlier by the Crimean Human Rights Group, operators also reported that a test for a new coronavirus in Crimea could be done only after visiting a doctor in case of obvious symptoms.
The Crimean Human Rights Group points out in its monitoring findings, that the level of COVID-19 diagnosticating in Crimea remains low and suggests that the official figures on the number of COVID-19 infection cases are far from reality.