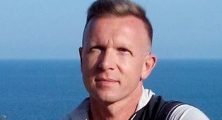 A citizen of Ukraine, Alexander Kovalchuk had to pay a fine and leave Crimea by decision of the Yalta City Court on November 27, 2017
"The members of the FSS (FSB) of the Russian Federation came to my house in Yalta and accused me of violating the migration legislation of the Russian Federation. They falsified information in the database about my crossings of the Russian border. According to their information, I came from Ukraine to Crimea in 2016 and hid, despite the fact that I have not left Crimea since 2011" Kovalchuk told the Crimean human rights group.
The Ukrainian was taken to the court. There his lawyer was informed that the Ukrainian would be arrested and forcibly deported through the Krasnodar special detention center for migrants. After that, they suggested signing a confession of guilt about the fact of violation of the migration legislation of the Russian Federation, agreeing to a fine of 2,000 rubles and for expulsion in the form of an independent exit from Crimea within 15 days. Kovalchuk claims that he was orally informed of the ban on entry to Russia for 5 years.
"In the beginning they wanted to accuse me of terrorism, interrogated my neighbors, showing them a photo of my dog and telling that it was seen in the places of the upcoming undermining of power transmission lines in Yalta," the Ukrainian added.
Alexander Kovalchuk has a chronic illness. At the advice of doctors, since 2011 he lived in Yalta. After the occupation of the peninsula Kovalchuk stayed in Crimea and unsuccessfully tried to get documents there in accordance with the de facto Russian legislation.
The expert of the Crimean Human Rights Group Alexander Siedov notes that the ban on a Ukrainian citizen to live on Ukrainian territory is an example of the planned Russian policy of replacing the population in occupied Crimea.
"Such actions violate art. 49 of the Geneva Convention on the treatment of population on the occupied territory, and the European Convention on Human Rights, which provides the human right to free movement and freedom to choose one's residence. The reason for the ban is that Ukrainian citizen doesn't have Russian citizenship ", – explains the human rights activist.
"This case is an example of one of the methods of persecuting Crimean residents for the absence of Russian citizenship and speaks of forcing them to receive it. Since citizenship provides not only rights, but also duties, such actions violate the Hague Convention, which prohibits forcing the population of the occupied territories to swear an oath to the occupating country " Siedov added.