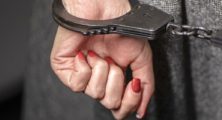 The Crimean Human Rights Group has found out that a woman arrested by the FSB in November 2019 under suspicion of 'high treason' is Mrs Galina Dovgopolaya, 64 years old, resident of Sevastopol who was born in Bakhchisarai.
According to the RF FSB press office data, the woman, as they said, was recruited by the Ukrainian intelligence service, and 'was purposefully collecting confidential military data' as instructed by the Main Intelligence Department.
On November 27th 2019 'Leninsky District Court' of Sevastopol remanded her in custody for 2 months – till 26 January 2020. This was reported at the official court website 'without indication of personal data of the arrested'.
The woman is charged with RF CC Article 275 that is punishable with imprisonment for 12 to 20 years without any alternatives.