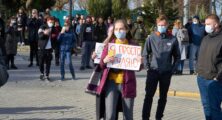 For January 22 – 24 Andrey Grachev, a 'judge of Leninsky District Court of Sevastopol" issued 12 decisions3 deci on sentencing under RF CoAO Article 20.2 (participation in a non-authorized mass event) for participation in the action to support Aleksey Navalny, a Russian opposition member. Sevastopol residents, both those who came to the rally and those who invited in the social networks to participate in the peaceful assembly, were persecuted, including:
On 22 January Mr.Ilya Zaika arrested for 5 days for publishing the time and location of the action
On January 23 3 decisions on sentencing for participation in the action were issued regarding Mr.Vladimir Grechishkin, Mr.Dmitriy Brazhnikov, and Mr.Artem Lukashov (RF CoAO Article 20.2).
Two sentence decisions were published on the 'court' website: Mr.Grechishkin was sentenced to 20 hours of compulsory community service, and Mr.Artem Lukashov – to 5 days of arrest.
On January 24, 8 decisions were issued under RF CoAO Art. 20.2 – regarding Mr.Viacheslav Neyevin, Mr.Aleksandr Kritskiy, Mr.Sergey Lukashov, Ms.Alexandra Baklitskaya, Ms.Anastasia Glushenko, Mr.Maksim Bychkov, Mr.Andrey Kravtsov and Mr.Maksim Rozum.
The website of the "court" published 5 sentence decisions. Mr. Neyevin was sentenced to 1 day of administrative arrest, Mr. Kritskiy and Ms.Baklitskaya – to 3 days, Mr.Lukashov and Ms.Glushenko – to 5 days of arrest.
Mr.Kravtsov informed OVD-info, that he had been arrested for 7 days.
Applying an authorization procedure instead of a notification one regarding peaceful assemblies constitutes a violation of the freedom of peaceful assemblies, while arresting peaceful assembly participants also violates the right to liberty and security of person