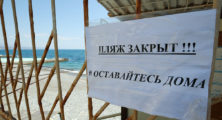 On June 14, the Ukrainian checkpoints with Crimea reopened, that means cancelling the previous checkpoints passing restrictions. This decision was made by the Ukrainian government on June 12.
This happened, many Ukrainian nationals began to plan their trips to Crimea for various reasons.
However, before starting to Crimea, one should take into account that in addition to the Ukrainian checkpoints, the people will be passing also checkpoints controlled by Russia, and that the restrictions imposed by the Russian authorities are in force on the territory of the occupied peninsula.
Entering Crimea via checkpoints
Ukrainian nationals who do not have a passport of a Russian Federation passport issued by the occupation authorities in Crimea within the framework of imposed Russian nationality in violation of international norms and norms of Ukrainian legislation are considered by Russian border guards as "foreigners" (that also constitutes a gross violation by the Russian Federation). Thus, for such Ukrainian nationals, entry to Crimea has been restricted by Russia. At the moment people with Ukrainian national passport may pass the 'Russian' checkpoints only if they are family members (spouses, parents, children, adoptive parents, adopted children), guardians and trustees of Russian nationals, including those Crimeans who have an "automatic" Russian passport . The relationship degree should be verified with documents.
At the same time, regulatory acts of the Government of the Russian Federation are contradictory, since at the same time they allow "foreigners" (in this case, Ukrainian nationals without an imposed Russian passport) to enter Crimea just once in case of sick relatives in need of care (spouses, parents, children, adoptive parents, adopted children) , to guardians and trustees, provided that documents proving their identity, documents (copies of documents) of a medical organization confirming their condition, and copies of a document confirming the degree of relationship be presented. While the previous rule indicates relatives as the reason to enter, regardless of whether they need care or not.
It is also possible to enter Crimea now (without an imposed Russian passport) for treatment purposes, provided that "documents (copies of documents) issued by the medical organization confirming the invitation to treatment and indicating the time of treatment or documents (copies of documents) drawn up by the Russian Ministry of Health " be presented.
To get a clarification on these issues from the Russian border guards is extremely difficult, that has been confirmed by monitoring of the Crimean and Russian 'hot lines': just one phone number of 10 was reached.
Observation in Crimea
Ukrainian nationals who arrived in Crimea from the Ukraine controlled territory should be isolated for 14 days under observation conditions. Such observation facilities are usually based in certain institutions: health resorts, recreation centers, etc. Since June 15, all arriving from the territory controlled by Ukraine, regardless of the presence of the "Crimean residence permit", should be sent to the observation facilities. People who were in the "observation" often complain about the poor quality of food and living conditions.
In addition, it is worth considering that since June 15, only those who are registered at the place of residence in Crimea are allowed to stay in hotels, and boarding houses. So the Ukrainian nationals without "Crimean residence permit" would not be accommodated in the health resort and recreational facilities.
COVID-19 infection level
According to the official information of the occupation authorities, as of June 16, 748 cases of COVID-19 infection were recorded in Crimea (561 in AR of Crimea and 187 in Sevastopol), of which 20 people died.
However, it is important to know that these statistic data do not reflect the real situation with the spread of COVID-19 in Crimea, that has been repeatedly reported by the Crimean Human Rights Group due to the results of monitoring the situation with COVID-19 in Crimea. When a phased quarantine-off started, the official estimates of the number of COVID-19 infected and the COVID-19 caused deaths are underestimated in order to remove the restrictions further.
Furthermore, flights from the RF, most of Moscow – a RF region with the highest number of COVID-19 infection cases confirmed, land daily in Crimea. For instance, only on June 15 22 flights with passengers arrived in Crimea from Moscow, increasing significantly COVID-19 infecting risks in the peninsula.
Occupied territory and violation of human rights
 When you have decided to go to Crimea, you should remember, first of all, that you are heading off to the occupied territory controlled de facto by the RF authorities. Human rights violations in Crimea are comprehensive, and no fair justice exists. The Russian authorities keep on depriving the people of liberty for political reasons, manufacturing the cases. According to the Crimean Human Rights Group data, 94 persons are now kept in custody due to such cases. To become a victim of such persecution is highly probably, first of all, for political and public figures of Ukraine, military men, staff of legal enforcement bodies, human rights defenders and journalists.
In addition, when passing the Russian checkpoints, the RF FSB may get access to your personal information. How to protect such information you may read in our recommendations.