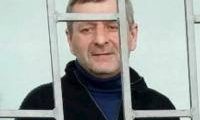 On September 11, 2017 the "Supreme Court" of Crimea handed down a prison sentence of eight years to one of the Crimean Tatar leaders, the citizen of Ukraine Ahtem Chiygoz.
The sentence imposed on Akhtem Chiigoz is a logical continuation of the policy of repressions, which the occupation authorities followed when considering the "case of 26 February".
Within this case, one can observe unprecedented, even in terms of the occupied Crimea, number of violations of the European Convention on Human Rights.
Such violations include:
Violation of art.5 "Right to Freedom and Personal Inviolability", whereas Akhtem Chiigoz has been deprived of liberty since the moment of his detention on 29 January 2015.
Violation of art.6 "Right to a Fair Trial", whereas "the judges" were expressly biased during the whole trial. In fact, none of the motions filed by the defense was sustained while practically all motions filed by the accusation were met. Chiigoz himself was not allowed to physically attend any of the sittings. He took part in all the sittings in the video conference mode despite the fact that the defense started each hearing filing the motion requesting physical presence of the accused. Practically none of the hundreds of the testimonies of the "victims" and "witnesses", heard during the trial, contained any evidence of personal guilt of Chiigoz, apart from those given by unnamed "secret witnesses" and one person who had a personal grudge against Chiigoz.
Violation of art. 7 "Punishment Solely on the Basis of Law", whereas at the moment of the meeting (26 February 2014) the RF did not have jurisdiction over the occupied peninsula even according to its own legislation.
Violation of art. 11 "Freedom of Meetings and Associations", whereas Akhtem Chiigoz was sentenced for the participation in one of the meetings held on 26 February in front of the building of the Verkhovna Rada of Crimea. During the trial, the accusation failed to present a single evidence the meeting was not peaceful and was a "mass riot".
Violation of art. 14 "Prohibition of Discrimination". The legal action was taken only in respect of the participants of the pro-Ukrainian rally, while all participants of the pro-Russian rally held on 26 February 2014 are "victims" or witnesses.
Apart from the above articles of the European Convention on Human Rights, the sentence violates art. 64 of the Fourth Geneva Convention that prohibits to apply criminal law of the occupant country on the occupied territory. Over the longer term, the sentence to 8 years of imprisonment ordering forced deportation of Akhtem Chiigoz to places of deprivation of freedom on the territory of the RF additionally triggers violation of art. 49 of the Fourth Geneva Convention expressly prohibiting similar acts.