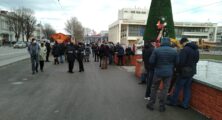 On February 11, the State Duma of the Russian Federation adopted in the third reading a bill that increased penalties for participation in rallies. The bill strengthened liability for disobedience to police, repeated disobedience to police during rallies, and also introduced liability for violating the rules to finance a peaceful assembly.
For these purposes, two articles of the Code of Administrative Offences of the Russian Federation (RF CoAO) were amended, namely, the liability under Art. 19.3 was increased and Art. 20.2 was added with two new parts.
The new rules give the Russian authorities the opportunity to prosecute more severely both the participants of the rallies and the people who raise funds for their holding.
The bill, considered and adopted on February 9 by the State Duma of the Russian Federation in the second reading, sets forth a 4-time's increase of the fine for disobeying a police officer's demand (RF CoAO Article 19.3) – from RUR 500-1,000 to RUR2,000-4,000 and adds RF CoAI Article 19.3-1 with the point that allows for bringing
500-1000 rubles to 2000-4000 rubles and supplements part 1 of Art. 19.3 of the Code of Administrative Offenses of the Russian Federation the ability to bring the defendant to punishment as compulsory community service for a period of 40 to 120 hours.
The bill also sets forth a 4-fold increased fine for the repeated disobedience during a rally: RF CoAO Article 19.3-6, RUR10,000 to 20,000 instead of 5,000, and the compulsory community service would be 120 to 240hours (up to 30 hours now). The fine for officials is to be increased almost 20 times – RUR20,000-40,000 (now RUR1,000-3,000) and for legal entities 10 times – RUR70,000-200,000 (now RUR10,000-15,000).
In addition, RF CoAO Article 20.2 (violation of the rules for holding a rally) is to be added with parts 9 and 10, introducing liability for violating the procedure to collect and use funds for a rally, as well as for financing a rally non-authorized to do this.
The wording vagueness of the new provisions of RF CoAO Article 20.2 will allow an administrative prosecution of persons for participation in any kind in financing a mass event.
RF CoAO Article 19.3 has been regularly used in Crimea to bring the participants of peaceful assemblies to justice, since the demands of Russian policemen to stop the rally are always considered "legal" by the occupation authorities.
When the bill is enacted, this would further limit the right to peaceful assemblies for the occupied Crimea residents since the Russian laws, de facto, are enforced in this territory, too.