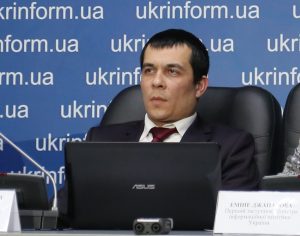 Prisoners complain about the overcrowding, poor sanitation, insect bites, lack of proper nutrition and medical care.
Lawyer Emil Kurbedinov reported to Crimean human rights group about the conditions in Simferopol pre-detention centre were the citizens of Ukraine are being kept.
According to him, the political prisoners, many of which are kept in detention for almost a year, do not have the opportunity to see their family members.
Kurbedinov also said that the amount of detainees on cells is 2 times more than the amount of beds for them: "People sleep on beds in turn. If the cell has 10 beds – there are 20 people kept in there."
The defendants complain to the lawyer regarding the poor sanitation in the cells and the lack of proper nutrition.
"The prisoners can eat only what was brought by the family and friends. Food (which is given in pre-detention centre, – Ed.) is terrible and it is impossible to eat it. The guys say that when the soup is brought, leather with wool floats in it. If this is a mush, it is cooked on such quality oil, that within a week your stomach will just "stop". Bread is half-baked" – reported Kurbedinov.
According to the lawyer, the people in pre-detention centre are suffering from the bites of fleas and bedbugs.
"Emir Usein (Kuku – Ed.) has strong itch. When he was in a mental hospital, he was kept in a separate room. Apparently, these parasites have mutated and cannot be treated by any means."
In such conditions, many prisoners now have health problems, but the necessary medical care cannot be provided in pre-detention centre because of the lack of necessary medication.
"In the infirmary they say directly that they do not receive needed medicines from Moscow. And Arsen Dzhepparov had the surgery done by the detainees – they operated the boil. When he was taken to the hospital, he was already feeling very bad. He was operated and still being under general anaesthesia was thrown back into the cell. He was not even let to recover in the hospital. He awaked from the anaesthesia already in the cell,"- Kurbedinov reported to Crimean human rights group.
Earlier Meryem Kuku reported the CHRG that the state of health of her husband Amir-Usein got worth, but the necessary medical care is not provided in the pre-detention centre due to lack of necessary medicines.
According to CHRG, custody also threatens the health of Vladimir Baluch, who claimed at the hearing that he needed medical help. Because of the overcrowding in prison cells, where Baluch originally was contained, his chronic bronchitis recrudesced