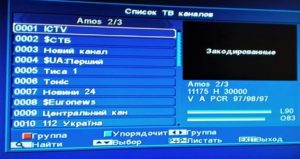 Free access to the part of Ukrainian TV channels is currently encoded in Crimea. This is testified by the data of the Crimean Human Rights Group monitoring, held in Simferopol and Dzhankoy in March 2020.
Private television channels with the signal encoded for viewers are: STB, Inter, ICTV, Novy Channel, TVTsі, M1, M2, Film.ua, Bolt, Dacha.
At the same time, some Ukrainian TV channels remain in free access. For instance, 1+1, UA Krym, TRK Ukrayina can be watched in Simferopol by satellite channels.
Russian satellite TV channels in Crimea are in free access.
Encoding the satellite broadcasting of the top-rated television channels in the occupied territories affects adversely the situation with access to information in Crimea.
With a consistent unlawful blocking of Ukrainian media by the Russian Federation, the encoding of satellite channels by Ukrainian owners significantly limits the ability of residents of the occupied territories to receive alternative information about the effects of the armed conflict.
Ukrainian nationals who have to live in the occupation, are in a difficult humanitarian situation, that has only aggravated with start of COVID-19 pandemics. The situation gets even worse with Russian and Kremlin-controlled Crimean media disseminating broadly hate speech, misinformation about Ukraine, propaganda for war and service in the Russian army on the peninsula, while the information on protective measures in the context of the COVID-19 spreading is not sufficient.
The Crimean Human Rights Group is appealing the owners of Ukrainian TV Channels to revise the signal coding policy introduced earlier to re-launch the free of charge satellite broadcasting of these media on the occupied territories.